Harrison Ford and Asa Butterfield square off in "Ender's Game" still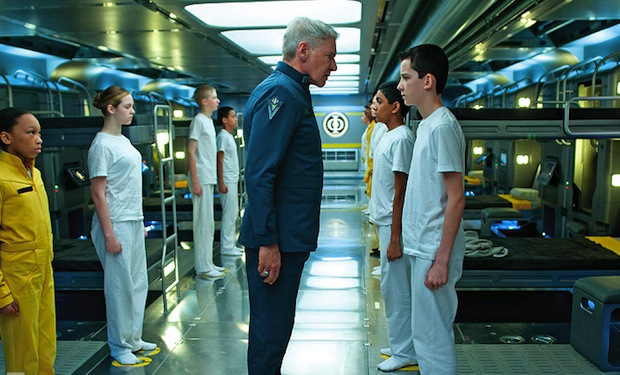 Posted by Terri Schwartz on
Finally, finally, a new image of the forthcoming "Ender's Game" adaptation has hit the web. In it, we see Harrison Ford's Colonel Graff staring down Asa Butterfield's Ender during an early scene in the Battle School. A picture might not guarantee how good or bad a movie will be, but it is worth a thousand words, and these words lead us to believe that this movie will be great.
"The relationship between [Harrison] and Asa was very close, but he didn't overly befriend him off the set. He helped Asa by allowing that slight sense of intimidation to be there," director Gavin Hood told Entertainment Weekly, the same outlet we have to thank for this image. "The kids have to attend school for at least three hours of class every day, plus do homework, so you can only shoot with someone like Asa for five hours of your day. There was no time for fooling about or not knowing your lines or being unprepared."
Hood also explained why the Launchies in the film will be older than the ones in the novel. He said he discussed that at length with writer Orson Scott Card, and together they decided to make Ender and the rest of the kids older.
"The decision was made very early on to compress the time period into about a year, so that we could have the same actor from beginning to end," he said. "We were trying to hit that sweet spot right around 12, which Asa fits in very nicely. … You sit down for two hours, you're just beginning to bond with an actor, and then he changes and suddenly you're bonding with someone who's meant to be the same person, but you know he's a different actor."
In addition to Butterfield and Ford, "Ender's Game" also stars Ben Kingsley, Hailee Steinfeld, Viola Davis and Abigail Breslin. The film was written and directed by Hood, the man behind the 2009 superhero flick "X-Men Origins: Wolverine." The synopsis for the movie reads:
In the near future, a hostile alien race (called the Formics) have attacked Earth," the synopsis reads. "If not for the legendary heroics of International Fleet Commander, Mazer Rackham (Ben Kingsley), all would have been lost. In preparation for the next attack, the highly esteemed Colonel Graff (Harrison Ford) and the International Military are training only the best young children to find the future Mazer. Ender Wiggin (Asa Butterfield), a shy, but strategically brilliant boy is pulled out of his school to join the elite.

Arriving at Battle School, Ender quickly and easily masters increasingly difficult war games, distinguishing himself and winning respect amongst his peers. Ender is soon ordained by Graff as the military's next great hope, resulting in his promotion to Command School. Once there, he's trained by Mazer Rackham, himself, to lead his fellow soldiers into an epic battle that will determine the future of Earth and save the human race.
What do you think about this new image? Tell us in the comments section below or on Facebook and Twitter.