Five reasons to watch John Carpenter's "Escape From LA" tonight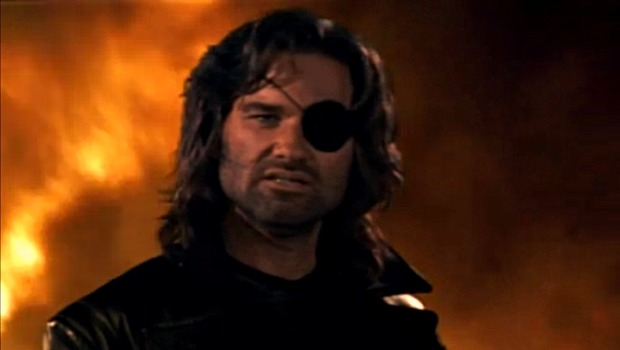 Posted by Melissa Locker on
Tonight at 8/7c we are heading to Los Angeles Island to watch as Snake Plissken makes his daring escape (or does he?) before the world ends. Yep, we're showing John Carpenter's "Escape From LA" starring Kurt Russell as he once again takes up the eyepatch that he wore in John Carpenter's low-budget (who needs a budget when you have Snake?) dystopian action flick, "Escape From New York."
In this sequel, a massive earthquake and the resulting flooding has turned Los Angeles into an island, which makes it the perfect prison for everyone who breaks the strict moral code set into place by the country's tyrannical, religious fanatic President (Cliff Robertson). But after a powerful weapon that can shut down the power around the globe ends up in the hands of some revolutionaries (courtesy of the president's rebellious daughter), the president has no choice but to turn to Snake for help. Our eyepatch-wearing anti-hero is sent to Los Angeles Island with a deadly virus strapped to him, set to go off and kill him, if he fails in his mission to reclaim the device and help the Commander in Chief out of a jam. Snake's mission quickly turns into a bizarro adventure film with enough self-mockery that it's downright fun to watch, even if you can't help but wonder if maybe it's satire. Either way: "Welcome to the human race."
Here are five great reasons to watch "Escape From LA" tonight at 8/7c:
1. Pam Grier
Griere stars as Snake Plissken's old friend Carjack Malone, but something is a little different about old Carjack. Since we last saw him in "Escape from New York," he has become the transsexual gang leader Hershe Las Palmas played by the always awesome Pam Grier.
2. Cliff Robertson
The permanent President of the United States is a theocrat who outlawed tobacco, alcoholic beverages, red meat, firearms, profanity, non-Christian religions, atheism and non-marital sex and has no qualms about sending his own daughter to die. He's played with frightening realism by Robertson, who you may recognize from "Three Days of the Condor."
3. Bruce Campbell
There is no movie, no matter how awesome, that is not made even better by the addition of Bruce "Evil Dead" Campbell to the cast. "Escape From LA" does it by casting him as the Surgeon General of Beverly Hills. You'll just have to watch to see what that means.
4. Steve Buscemi
After making his way to Los Angeles Island via personal submarine, Snake meets "Map to the Stars" Eddie (Steve Buscemi), a swindler who sells interactive tours of L.A.
5. Kurt Russell
If you haven't seen Russell as Snake Plissken, you haven't lived.
*Bonus*: 6. Peter Fonda
Keep your eyes peeled for Peter Fonda possibly playing himself as an old hippie surfer.
Want the latest news from IFC? Like us on Facebook and follow us on Twitter @ifctv.
"Escape From LA" airs tonight at 8 PM ET; Friday, Dec. 14 at 12:30 AM ET; Wednesday, Dec. 19 at 8 PM ET; Thursday, Dec. 20 at 1:00 AM ET; Wednesday, Dec. 26 at 8 PM ET; Thursday, Dec. 27 at 12:30 AM ET; Saturday, Jan. 5 at 8 PM ET; Sunday, Jan. 6 at 2:30 AM ET; Thursday, Jan. 10 at 10:15 PM ET; Friday, Jan. 11 at 2:45 AM ET