Five reasons to watch "Big Top Pee-wee" tonight at 8:15/7:15c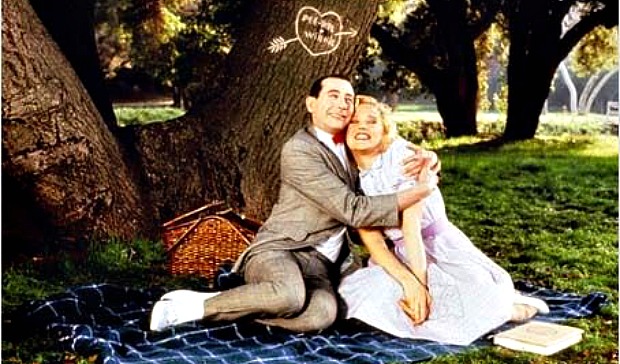 Posted by Melissa Locker on
It's the end of the work week and for most of us, the start of vacation. What better reason to celebrate with a bag of chip, a 40 oz of malt liquor and "Big Top Pee-wee." We're bringing the movie at 8:15/7:15c, you stop at the store on the way to your couch.
"Big Top Pee-wee" is less of a follow up and more of a companion piece to Pee-wee Herman's magnum opus "Pee-wee's Big Adventure." After recovering from his hilarious exploits riding the rails to the Alamo to find his beloved bike, Pee-wee has retired to the country where he has picked up the pitchfork and overalls of a farmer with a talking pig (voiced by Wayne White) and a slightly insufferable fiancee (Penelope Ann Miller). While life as a pig farmer would be enough for an exciting episode of "Pee-wee's Playhouse," it's not nearly enough for a movie. So Pee-wee's simple yet somewhat boring life gets a jolt of excitement when an entire traveling circus plops onto his land, courtesy of a tornado. Soon, Pee-wee has circus fever, inspiring the ringmaster (Kris Kristofferson) to produce a new act that gives homage to the American farmer … and falling for the gorgeous trapeze artist (Valeria Golino).
Here are five reasons to watch "Big Top Pee-wee" tonight at 8/7c:
1. No lie: Kris Kristofferson always makes a movie a Must See
2. You'll never look at egg salad the same way.
3. Pee-wee loses his virginity. No, really.
4. Benicio Del Toro makes his big screen debut, appearing as Duke the Dog-Faced Boy
5. Pee-wee would want you to watch, and he always gets his way
Want the latest news from IFC? Like us on Facebook and follow us on Twitter @ifctv.
"Big Top Pee-wee" airs tonight at 8:15 PM ET; Saturday, Dec. 22 at 2:00 AM ET; Tuesday, Dec. 25 at 10:15 PM ET; Wednesday, Dec. 26 at 2:15 AM ET; Tuesday, Jan. 8 at 10:15 PM ET; Wednesday, Jan. 9 at 2:15 AM ET; Wednesday, Jan. 16 at 10:15 AM ET; Wednesday, Jan. 16 at 4:15 PM ET