Comedy Bang! Bang! Nativity Pageant: Comedians like Zach Galifianakis, Jon Hamm and Garfunkel & Oates ruled the night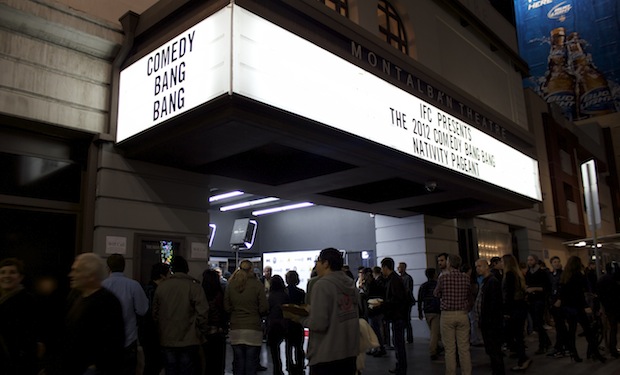 Posted by Terri Schwartz on
Christmas might still be weeks away, but Scott Aukerman kicked off the holiday season with a "bang bang" last night for those who love comedy in Los Angeles. Ifc's "2012 Comedy Bang! Bang! Nativity Pageant" took place on December 4 at The Ricardo Montalbán Theater, and despite there being several exciting surprise guests, all the stand-up comedians present managed to get through the event without making a single "KHAAAAAN" joke. Impressive, no?
Aukerman got the audience warmed up at 8 p.m. by teasing that his monologue for the Nativity Pageant was actually a warm-up for a different one he was going to do at a later date. In fact, many of the comedians present used the opportunity to showcase their new material, which was a treat for fans who shelled out $45-$75 for tickets that benefit the LA Regional Food Bank. Aukerman brought one audience member up on stage and tricked him into saying how much he loved to have sex with dogs, which really set the stage for how the rest of the night was going to go.
The first funnyman to take the stage was Patton Oswalt, whose hilarious takedown of Florida started the event out on the right note. Let's just say he really hates the state, and went as far as to compare it to a piece of genitalia that it doesn't usually get likened to. We'll let your imaginations run wild.
After Oswalt left the stage, Weird Al Yankovic surprised guests as the man who was there to introduce Jimmy Pardo. Unfortunately Weird Al didn't have time for a song, but at least Pardo followed up his appearance with a memorable quest to find just the right audience member to give some crappy shwag to (he had a lot of qualifications). Once he was gone, fans were treated to another surprise appearance, this time from Andy Richter, who spent half the time talking about how much he hated his friends like Conan O'Brien and Zach Galifianakis and the other half being terrified they were standing right behind him.
Richter was there to introduce The Nerdist's Chris Hardwick, who tried out some new material and told one rather terrifying story about a trip he and his girlfriend took to a hot springs. He joked that the location was a mecca for old people who seemed to think it would recreate the effects of "Cocoon," but his detailing of how their wrinkled bodies look will give us nightmares for months.
One of the most exciting special guests came after Hardwick wrapped his set: Jon Hamm, being carried out on stage by Steve Agee. Hamm cracked that Kanye West was supposed to carry him out but he got some girl pregnant (we can't vouch for that being true), and then he introduced guest performer Jenny Slate.
The rest of the night was filled with memorable standup routines and skits. Paul F. Tompkins came out on stage doing a pretty good impersonation of TLC's Cake Boss, Matt Besser was The Upstager and Tim Heideker (maybe) convinced everyone he was the new editor of Rolling Stone. Zach Galifianakis was a highlight of the night, especially when his opening line was, "Thank you. Don't get your hopes up," and he tried out some new "characters" that were downright hilarious.
Kurt Braunohler and Kristen Schall came out on stage together as two "representatives" from the American Association for Polio Awareness, and they were followed by a hilarious David Cross. Todd Glass and Neil Hamburger followed him, but the late night comedians were upstaged by three killer "holiday songs" from Garfunkel & Oates. The night was rounded out with Doug Benson, Chelsea Paretti, Nick Kroll (who has a newfound love for Brussels sprouts), Anthony Jeselnik, Paul Scheer, Rob Huebel, Brian Posehn and, at around midnight, Thomas Lennon.
It was a long, fantastically funny night for everyone involved, and one that proved just how much the comedy community is affected for the better by "Comedy Bang! Bang!" Special thanks go out to the World Dodgeball Society and aspecialthing records for teaming up to help make this whole thing possible.
Did you attend the "Comedy Bang! Bang! Nativity Pageant"? Who was your favorite performer? Tell us in the comments section below or on Facebook and Twitter.