Benedict Cumberbatch and J.J. Abrams tease "Star Trek Into Darkness" villain character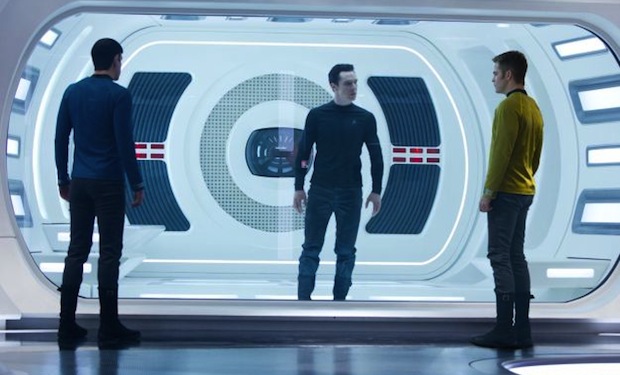 Posted by Terri Schwartz on
Now that we know Benedict Cumberbatch's role in "Star Trek Into Darkness," we can start trying to figure out who he is. The role of John Harrison is still shrouded in mystery, but fortunately Benedict Cumberbatch and J.J. Abrams have helped flesh him out.
"Obviously giving away the full motivation would ruin it, but he is a terrorist, he operates as a terrorist," Cumberbatch told MTV News. "He has extraordinary physical powers, but also mental powers. He can sow an idea, which is as powerful as any gunshells or closehand combat that he's masterful in. He tears into the fabric of both the world and the Enterprise family."
He continued, "I think he's somebody at some point in the film, you should feel a certain amount of empathy for his cause if not his means. … He's got a more interesting relationship with Kirk than that, and with Spock in a way. He very much plays them off against each other."
Meanwhile, Abrams opened up to MTV News about the motivations behind Harrison's actions.
"Not just his backstory, but his agenda, his plan, his secret, all of that I think is what, for me at least, is what makes him a frightening and cool villain," he said. "But also, a real villain when they're not just conventional angry, vengeful types don't see themselves as the bad guy. They're the good guy, they've got a complete rational and motivation. So I think, true to form, the character that Benedict plays has an absolute sense of right and wrong."
"Star Trek Into Darkness" is directed by J.J. Abrams and stars Pine, Zachary Quinto, Zoe Saldana, Simon Pegg, Anton Yelchin, Karl Urban, John Cho and Bruce Greenwood. Newcomers Alice Eve and Benedict Cumberbatch have been added in undisclosed roles. The film is slated to hit theaters on May 17 in IMAX and 3D. Here's it's official film synopsos:
In Summer 2013, pioneering director J.J. Abrams will deliver an explosive action thriller that takes 'Star Trek Into Darkness.' When the crew of the Enterprise is called back home, they find an unstoppable force of terror from within their own organization has detonated the fleet and everything it stands for, leaving our world in a state of crisis.

With a personal score to settle, Captain Kirk leads a manhunt to a war-zone world to capture a one man weapon of mass destruction. As our heroes are propelled into an epic chess game of life and death, love will be challenged, friendships will be torn apart, and sacrifices must be made for the only family Kirk has left: his crew.