What to watch tonight: Will Eisner's and Frank Miller's "The Spirit"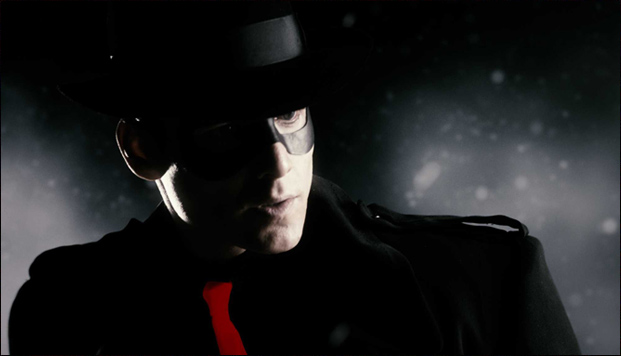 Posted by Melissa Locker on
Will Eisner's dazzlingly dark graphic novel "The Spirit" comes to life in a stunning stylized manner. Directed by Eisner's comics world colleague, Frank Miller, "The Spirit jumps off the screen to engage the viewer. It's not a surprise, though, as Miller uses the same green-screen method that brought "Sin City" to life. Miller earned his directorial bona fides when Robert Rodriguez brought him on to co-direct "Sin City," which was based on Miller's graphic novel. Miller put his "Sin City" experiences to good use in "The Spirit" bring the characters to life on the silver screen while remaining true to their comics roots. In "The Spirit" he creates a stark and highly stylized film noir world in the vein of "Batman Begins" or "Dark Knight Rises."
The film stars Gabriel Macht as a rookie cop who is brutally killed, but because this is a comic he is mysteriously brought back to life. He then assumes the guise of The Spirit — a masked crime fighter who prowls the shadows of Central City on a supernatural mission to keep the urban landscape safe. As with most superheroes, The Spirit has an arch nemesis, The Octopus, who is played by Samuel L. Jackson. The Octopus is determined to live forever even if it means wiping out the entire population of Central City, so The Spirit has no choice but to stop the diabolical villain from achieving his cold-blooded plan. But even with his unique powers, the brave masked crusader faces deadly challenges from the treacherous beauties that inhabit Central City, including the sweet girl next door Ellen Dolan (Sarah Paulson), spitfire secretary Silken Floss (Scarlett Johansson), wraithlike siren Lorelei (Jaime King), seductive policewoman Morgenstern (Stana Katic), and thee black widow Plaster of Paris (Paz Vega) who all set out to seduce The Spirit. Then there's the Angel of Death who's determined to claim the only man who ever somehow escaped her grasp. Even when he's in the arms of his true love, Sand Saref (Eva Mendes), our hero isn't safe.
Watch the trailer and be sure to tune in tonight at 8/7c for "The Spirit":
Want the latest news from IFC? Like us on Facebook and follow us on Twitter @ifctv.
"The Spirit" airs tonight at 8/7c and at 10:15 PM ET/9:15 p.m. CT; Saturday, Nov. 24 at 8:00 PM ET; and Sunday, Nov. 25 at 3:00 AM ET