Welcome to the Automat: The Larry Sanders Show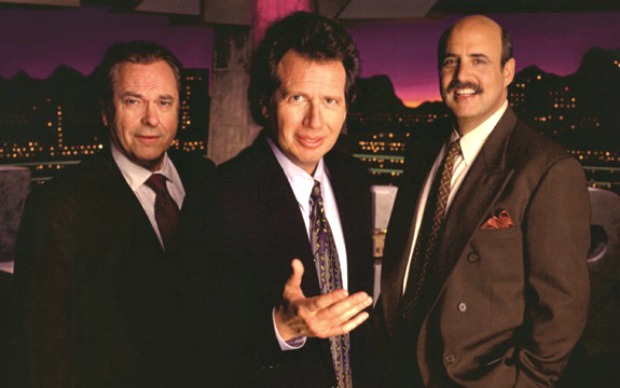 Posted by Melissa Locker on
Before Girls or Curb Your Enthusiasm or Flight of the Conchords, there was The Larry Sanders Show. It was the seminal HBO comedy in the 90s filled with razor-sharp satire that skewered Hollywood while letting everyone in on the joke. It starred Garry Shandling as the vain and neurotic talk show host Larry Sanders with Jeffrey Tambor as his hapless and somewhat clueless sidekick Hank. The satirical sitcom focused on the behind-the-scenes action of running a hit late night TV show, including the writers (Jeremy Piven, Sarah Silverman), producers (Rip Torn), bookers (Janeane Garofalo, Mary Lynn Rajskub), and agents (Bob Odenkirk). Among the show's many highlights are the celebrity guests who stop by the set to play self-parodying versions of themselves, including Farrah Fawcett, Janet Jackson, Robin Williams, Drew Barrymore, Beck, and Jerry Seinfeld. The show is truly great, which is why we're excited to be airing it during The Automat, the DVR-friendly early morning time slot. Tune in tomorrow to The Larry Sanders Show at 5 a.m. ET/4 a.m. CT and check the schedule for other showtimes.
But why take our word for it? Here are Bob Odenkirk, Sarah Silverman, Andy Dick, and Judd Apatow on what made the Larry Sanders Show so great:
Bob Odenkirk
Sarah Silverman
Andy Dick
Judd Apatow
Want the latest news from IFC? Like us on Facebook and follow us on Twitter @ifctv.
The Larry Sanders Show airs tomorrow at 5 a.m. ET. Check the schedule for other showtimes.