Tim Grierson on the Six Ways That the Oscars Are Actually Better Than Political Campaigns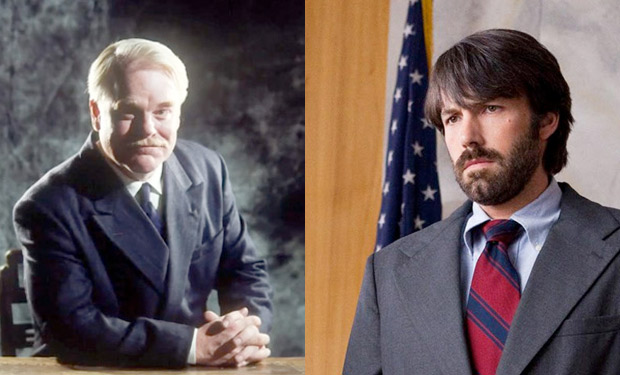 Posted by Tim Grierson on
Now that the presidential election is finally over, we can turn our attention to another never-ending campaign: Academy Award season. As we move closer to Thanksgiving, some of the potential Oscar front-runners have already been released — "Argo," "Lincoln," "The Master" — with a bunch more coming very soon. I've mentioned before that, despite the many reasonable objections to the contrary, I remain a fan of Oscar season, and as I reflect back on the political campaigns that have been waging over the last several months, I've noticed several instances in which Oscar campaigns are far more tolerable than the buildup to elections.
Let's be clear: I'm not trying to minimize the importance of elections. As opposed to Oscar handicapping, they're actually a meaningful part of our democracy that can shape the future of our country. But after enduring months of political ads and televised debates, I recognize that certain elements of awards season aren't nearly as toxic. For that, we can be grateful.
Here are six ways in which the Oscars are better than elections:
1. They almost never go negative.
Most political campaigns, presidential or otherwise, spend a fair amount of time attacking the other candidate's positions. You and I can grumble all we want about the mudslinging, but there's a simple reason why both Democrats and Republicans keep doing it: Going negative works.
By comparison, Oscar campaigns almost entirely are based on the merit of a particular film or performance. The Academy Awards may be a tiresome parade of self-congratulatory fluff, but at least the trades and Oscar sites aren't filled with ads where, say, Warner Bros. tries to pump up Ben Affleck's Best Director credentials for "Argo" by bashing "Life of Pi" filmmaker Ang Lee. At least on the surface, there's an appearance of civility about the whole thing. (And the times that there hasn't, it's been a bit ugly. The backers of "A Beautiful Mind" had to confront a whisper campaign that alleged that their movie wasn't a worthy contender because its subject, mathematician John Nash, wasn't the heroic figure that he was portrayed in the film. It ended up not working: "A Beautiful Mind" won four Oscars, including Best Picture.)
2. There's not a two-party system.
Every election cycle, observers wonder if there will ever be a time when a viable third-party candidate challenges the two major, deep-pocketed political parties. But aside from the stray independent — like Angus King, who won a Senate seat in Maine — you're normally stuck with just two choices when it comes to President of the United States.
Money matters in Oscar campaigning as well, of course — studios can spend much more than small indie companies — but at least the little guys have a chance in the major categories. In 2011, "Winter's Bone" (from Roadside Attractions) benefited from there being 10 Best Picture slots, just like "Precious" (from Lions Gate) and eventually winner "The Hurt Locker" (from Summit) benefited in 2010. Granted, these smaller companies are still competing with the big boys — even so-called indies like Fox Searchlight and Focus Features are part of larger studios — but at least their movies get to be part of the conversation. If movies were like presidential elections, those smaller films would all be Gary Johnson, a third-party candidate who ran for president and got almost no attention.
Not that the Academy Awards aren't narrow-minded in their own way. While Pixar has helped break the bias against animated movies for Best Picture, it's still incredibly rare to see an action movie or a comedy in the running for the big prizes.
3. They don't make you hate the thing they're supposed to be covering.
Despite the importance of presidential elections, the ceaseless campaigning can't help but foster a cynical attitude toward politics and politicians. That doesn't happen with the Oscars. Like I've argued before, the Academy Awards may be little more than a popularity contest, but they still do stir debate about what constitutes great films. You may end up hating who wins the Oscars, but it doesn't turn you off from the art form as a whole. (If anything, it maybe just makes you hate the Oscars.) But even then, there's still a place for you: Perhaps you're someone more closely aligned with the Spirit Awards or the different critics' prizes. Political elections can inspire people to turn apathetic and become disinterested in the democratic process. By comparison, if you're mad that the Academy loved "The Artist" so much, you're not going to stop watching movies because of it.
4. They don't reward the same people over and over again. (Well, maybe not quite as much.)
Like a lot of fields, politics definitely has a bias toward name recognition: George H.W. Bush and George W. Bush; Bill Clinton and Hillary Clinton; Ron Paul and Rand Paul. It doesn't guarantee you victory, but it definitely doesn't hurt your chances. And it goes beyond famous families: Members of Congress are voted in again and again because their constituents are familiar with them, even if Congress gets abysmal approval ratings.
This familiarity goes on in Hollywood as well. A respected actress like Meryl Streep and an acclaimed screenwriter such as Woody Allen have been nominated plenty over the years. And being the daughter (Sofia Coppola) of a celebrated filmmaker (Francis Ford Coppola) has its advantages. But I'd argue that there's more turnover in Oscar nominations and wins than there is at the polls. For one thing, once an actor or director wins an Oscar, they tend not to win ever again. Sure, Denzel Washington, Tom Hanks, and Kevin Spacey and others have two for acting. And, granted, Steven Spielberg has two for directing. But when Oscar prognosticators start making their predictions, they tend to factor out nominees who have previously won, figuring that Academy members might want to reward a new face.
With that said, though, the Academy can still be a pretty complacent bunch, especially when it comes to technical fields. Sandy Powell and Colleen Atwood have each won three Oscars for Best Costume Design, and they've won all theirs within the last 13 years. Rick Baker has won seven Best Makeup Oscars in 30 years.
5. You can't Nate Silver-ize them.
This year, one of the biggest stories in the presidential campaign was about Nate Silver, whose FiveThirtyEight blog had been stunningly accurate in predicting 49 of the 50 state outcomes in the 2008 election. Using a sophisticated mathematical analysis that took in to consideration different state polls, weighing their party bias and polling methods, Silver gave Barack Obama the edge to win this year's election, despite considerable pushback from conservative commentators who argued that he was relying too much on statistics rather than intangibles such as gut feelings about each campaign's momentum. (Additionally, they argued, polls don't matter.)
Silver's model was ultimately vindicated, but those who dismissed the statistician would probably love the Oscar horse race. Because the Academy doesn't publish a list of its almost 5,800 members, it's hard for news agencies to poll these individuals to see who they're voting for. (Around the time of the broadcast, Entertainment Weekly will ask members of different branches of the Academy to reveal their ballot anonymously.) So, unlike Silver's rigorous approach to crunching data, a lot of Oscar handicapping is an absolute crapshoot. Sure, there are patterns you can follow to make informed guesses — Silver did that himself a few years ago — but without much information about who these members even are, you can't be sure exactly which way they're leaning. (Plus, we never find out what the final vote total is.) We're all going with our gut when it comes to picking the Oscars, and it does make for an exciting evening. Even if we think we know which performances and films will be crowned, there are always surprises.
6. In the end, the outcome doesn't have any bearing on the real world.
When politicians run for office (or reelection), we the people decide who wins. (If we vote, that is.) That brings with it a responsibility that none of us should take lightly. You could argue, in fact, that it's the most important thing we do as citizens.
By comparison, we have no control over the Oscars at all — unless, of course, you're an Academy member who's reading this. With a presidential election, you have a certain stake in the outcome, but when it comes to the Academy Awards, it's all sport. That powerlessness is something of a relief, frankly. When the winners are announced on February 24, 2013, your and my life won't change in any significant way. We'll wake up the next morning and go about our day as we normally would. Having just gone through a contentious presidential election will hopefully give us all some perspective as Oscar season starts ramping up: There are bigger, more important contests going on in the world, and while art absolutely has its place, the handing out of little gold trinkets doesn't mean all that much. Honestly, we're lucky to live in a society that allows us the luxury of obsessing over such things as Oscars for months at a time. We should never take it for granted.