Tim Grierson on the Smart, Sexy Romantic Drama "28 Hotel Rooms"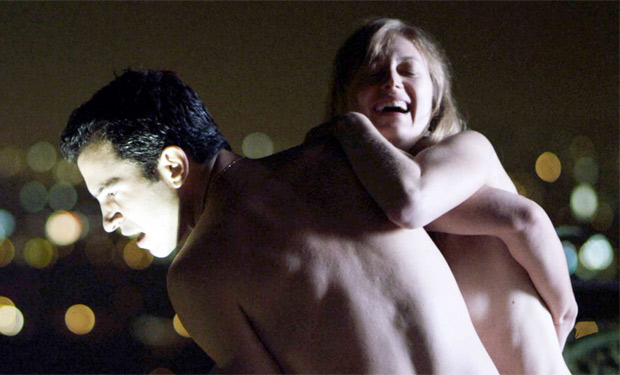 Posted by Tim Grierson on
Every year, the Sundance Film Festival serves as a launching pad and seal of approval for worthy indie fare, and this January's festival was no different, introducing the world to films like "Beasts of the Southern Wild," "The Sessions," "Sleepwalk With Me" and "Safety Not Guaranteed." But sometimes, great movies fall through the cracks, and one of this year's festival's very best offerings is about ready to arrive in theaters. (It's already available On Demand and through iTunes.) It's a beautiful romantic drama called "28 Hotel Rooms." When I saw it in January, I was pretty sure I loved it. Watching the film again recently, I'm convinced.
The plot of the movie, which is the feature debut of writer-director Matt Ross, is right there in the title. A rising-star novelist (Chris Messina) and a married accountant (Marin Ireland) hook up one night, having passionate sex in a hotel room. It would seem like a one-time thing — he lives in New York and she lives in Seattle — but they run into each other at another hotel later and decide to continue the affair. Thus begins a series of 28 hotel encounters that trace the arc of their unlikely relationship.
With a running time of just 82 minutes — and that includes five minutes of end credits — "28 Hotel Rooms" has several narrative quirks that add to its compelling design. For starters, we only see these characters in their encounters with each other in the different hotel rooms. We never see her husband, nor know his name, and we also have little idea about his girlfriend that he has in New York. We don't even know the main characters' names. The film's habit of withholding information extends to where the characters are when they're having their affairs, how long it's been since their previous encounter, and also how long precisely their affair runs. "28 Hotel Rooms" exists entirely in what the characters might consider their parallel reality: a world of high-end hotels where they can escape their real lives and enjoy these brief, sexually-charged flings. Everything outside the hotel rooms is a mystery, a separate zone that's off limits to each other and to us in the audience.
The film's construction may remind some of "Same Time, Next Year," a 1970s play turned into a movie that featured two married individuals who have a standing annual date to carry on their affair in a small California resort. But unlike that work, "28 Hotel Rooms" isn't interested in making its characters be representatives of America's shifting social values. Rather, Ross just wants to focus on these two individuals and their bond, examining how their clandestine relationship affects each of them over time.
Of the two actors, Messina is the better known: He was the supportive husband to Amy Adams in "Julie & Julia," and he's appeared on TV shows as different as "Damages" and "The Mindy Project." Here, he plays a man who isn't your typical one-night-stand sort of guy. From the beginning, you get the sense that he feels something for this married woman, even though she's a bit withholding about what goes on in her life. (And because we never see them away from the hotels, we have to take the few clues we get into their worlds at face value.) Messina's counterpart, Ireland, isn't quite as high-profile, although she was a part of the "Mildred Pierce" miniseries and appeared on "Homeland." (This summer, she played the daughter of Tommy Lee Jones and Meryl Streep in "Hope Springs," a nice piece of casting because Ireland bears a slight resemblance to Streep, particularly her sad, smiling eyes.) Ireland's "28 Hotel Rooms" character is less emotionally available than he is. That's in part because she's married, but over time we begin to understand that it goes beyond that: She's simply a distant person, although she's incredibly warm and loving at the same time. In lesser hands, "28 Hotel Rooms" would be a schematic study of opposites — he's an artist, she's a businesswoman; he's impulsive, she's practical — but Ross and his cast love these characters too much to look at them as types.
Last year, we got not one but two Hollywood romantic comedies about unconventional no-strings-attached relationships: sex without the tedium of being boyfriend and girlfriend. "No Strings Attached" and "Friends With Benefits" both tried to flaunt their modern twist on typical boy-meets-girl love stories — it was meant to seem "sexy" and "naughty" — but they ended up as traditional in their attitudes as a Kate Hudson rom-com. The characters in "28 Hotel Rooms" travel down a somewhat similar path — their early encounters are filled with nudity and sexual banter, while their later meet-ups often consist of emotional, substantial conversations with their clothes on — but there's a nuance to the story's arc that makes its trajectory far from predictable. And it's also an incredibly sexy film, not just because of the nudity but because of the intelligent, grownup construction of these two characters. He and she are smart, articulate, sophisticated people, and they have a warm rapport that feels genuine to the way couples actually behave, even if this particular relationship is far from normal. "28 Hotel Rooms" never judges its characters because of their affair, and in this way it's actually nervier than those other recent movies, in which there really weren't any emotional stakes.
When I saw "28 Hotel Rooms" back in January, I was quite taken by its structure, its performances and the subtle way in which it explores how all relationships begin with such passion but then must evolve if they're going to last. Revisiting the film, I felt the same way, but I was surprised by another reaction: I had missed these people — not the actors, per see, but these two characters. Without realizing it, they had stayed in my mind for months, and I relished the opportunity to relive their hotel adventures. They make each other laugh, and they make each other cry, and they might not survive if they tried to end the charade and admit to their significant others that they're in love. But I found myself rooting for them all over again, even though, as a married man myself, I probably shouldn't be supporting such behavior. But I think that's ultimately one of this film's great strengths: It takes an adulterous relationship seriously enough that its contours become indistinguishable from any other romantic relationship. Musician Lou Reed once sang, "It always comes to this/It's all downhill after the first kiss," and it's important to remember that he was in the midst of a long-term relationship when he wrote this lyric in an otherwise happy love song. All couples, no matter how contented they are, are always trying to keep a spark alive. In a sense, all relationships are their own self-contained mystery, unknowable to the outside world. With "28 Hotel Rooms," we get a chance to peek inside one of them, and damn if it doesn't speak to so many of our own.