The top 10 Captain Picard moments from "Star Trek"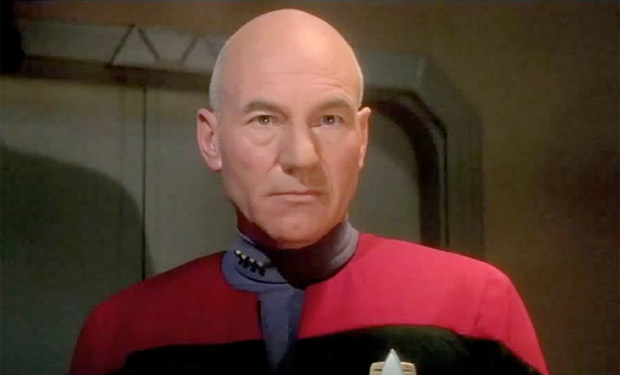 Posted by IFC on
5. Sleep
Most Star Trek fans will tell you the greatest TNG moment was during the franchise's first ever cliffhanger, the end of "Best of Both Worlds Part I." In it, Picard has been assimilated by the Borg and stares down Riker in cold gaze of mutually assured destruction.
But that isn't really Picard – it's "Locutus" – so it doesn't belong on this list. (Plus, he's threatening our space-faring friends. Not fun!) In the follow-up episode (after a long, long summer) Picard/Locutus is back aboard the Enterprise, looking rather pale, and trying desperately to break his mind free of the Collective's hold. Struggling, though with a blank face, he struggles to squeak out one word to Data: "Sleep." Data is able to interpret these instructions (it involves positronic matrices and information relays) and shuts down the Borg threat, just as Riker is preparing to ram the ship in a suicide run. Timing!
---
4. "Temba, His Arms Open"
Of all the far-out sci-fi on display in TNG, one of the most original episodes was season 5's "Darmok." In it, the Federation tries once again in vain to make contact with a civilization whose form of communication baffles their universal translators. It takes a marooned Picard (and a campfire) for him to break through the barriers and recognize that the Tamarians speak to one another in evocative metaphor. "Shaka When The Walls Fell," "Kadir Beneath Mo Moteh" and "Darmok and Jalad at Tanagra" may mean nothing to you, but they mean everything to them – and to the hardcore dweebs who like to speak in Star Trek code.
---
3. Letting The Nausicaan Stab Him Through The Heart
Season 6's "Tapestry" is the closest Star Trek ever came to Frank Capra's "It's A Wonderful Life." But instead of Zuzu's Petals it's a giant spear through the heart.
Picard's achilles heel is located a little higher – he has an artificial heart and it has caused him some degree of stress over the years. When the omnipotent Q sends him back to his younger years, offering him an opportunity to avoid the dom-jot hall brawl that led to his injury, he takes it. He then lives a life of mediocrity.
Oh, yes, he serves in Starfleet, even gets positioned to the Enterprise, but as a forgettable, risk-averse junior officer. Heck, Riker can barely remember his name. In the end, Picard must choose his "normal" path, one that takes life for all its worth, one informed by an early near-death experience, and, as such, he smiles as he lays there bleeding from the Nausicaan's blade.
---
2. The Truth!
It is important to take a nuanced view toward Wesley Crusher. It is too easily to just call him a know-it-all snot and wish he were eaten by a band of ravenous Tellarites. There are some good moments in the franchise that are because of him – even with that dopey rainbow sweater. However, when he left to join the academy and then got involved in an ethics scandal ("The First Duty," season 5) all the pent-up aggression toward the luckiest kid in the galaxy came bursting forth.
Picard's smackdown isn't just an opportunity to call Wesley names. He's too good for that. It is actually a fine platform in which he can espouse his vision of what the Federation and what Starfleet is all about. In a way, it is his version of Kirk's "Risk is our business" speech. And rather than me quote it for you, let's let the good Captain sum it up in eighteen perfect seconds.
---
1. There Are Four Lights!
But that wasn't Picard's best speech. His best speech, more of a howl than a speech, is a moment of universal triumph for all that are suppressed by a totalitarian state.
Taking its cue from George Orwell's "1984," the two-parter "Chain of Command" (season 6) sends Captain Picard into the dark abyss of physical and psychological torture at the hands of the horrible Cardassian, Gul Madred. In an effort to soften him up and get Federation defense codes, he points to a fixture with four lights and asks how many there are. Until Picard will see it Madred's way and say there are five lights, he will continue to inflict horrible pain.
Picard's spirit is greater than either man can know, however, and no amount of torment can make him relent. Though he can barely speak, Picard slurs out the defiant phrase "There are four lights!!" Even when he is rescues, he spits it back in Madred's face one last time. As an extra bit of badassery, he shoves one of the guards, despite barely being able to walk. Yeah, who said Picard wasn't as tough as Kirk?
---
Jordan Hoffman is a regular contributor to Film.com, ScreenCrush and writes the weekly "One Trek Mind" column at StarTrek.com.