The top 10 Captain Picard moments from "Star Trek"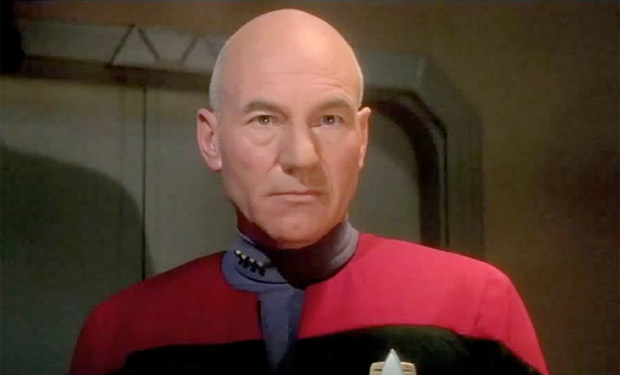 Posted by IFC on
By Jordan Hoffman
While the 1960s were a bit more reliant on a boozy machismo, the 1990s were all about diversity, intellect and the cultured enrichment of the mind and spirit. At least that's my takeaway from comparing the two great captains James T. Kirk and Jean-Luc Picard.
This is not to imply that Picard couldn't (or didn't) kick ass. He simply did it in a slightly more dignified way (oftentimes simply dispatching Riker, Worf and Data to the away team.) Picard's memorable moments were usually a cutting line, delivered in his stage-ready British accent (even though he was French…go figure.) Part of the Picard method was to solicit advice from each of his senior officers, then usually ignore them and do what he wanted to do in the first place. In this spirit I offer the top 10 Picard moments, and invite you to argue with me in the comments below. I won't change my mind, but at least you won't slink back to Ten-Forward feeling ignored.
(Are you a Kirk fan or a Picard die-hard? As part of IFC's "Trek Week" we're pitting the two baddest Enterprise captains in town against each other. Chime in with your favorite at #TrekWars on Twitter and click here to see our airdates for the nine "Original Series" and "Next Generation" films.)
---
10. Having A Drink With Scotty
One of the nicer aspects of Picard's personality is his respect for his elders. It comes, no doubt, from his studies as an archeologist (his road not taken) and on more than one occasion it manifested itself in the most fan-friendly way possible. More than his mind-meld with Sarek or political intrigue with Spock, I dig his his after-hours libation with "Captain" Montgomery Scott.
See, Scotty'd been held in emergency stasis outside a Dyson Sphere for just long enough to pull a tremendous guest shot on the season 6 episode "Relics." As the two sit on a holodeck version of the NCC-1701 ("no bloody A, B, C or D!") and discuss leadership, duty and old friends, I defy any of you not to start blubbering. It's Scotty's moment, but Picard leads him there, and has enough character to know when to take a back seat to a legend.
---
9. Who You Calling A Taar'Chek, Targ?
Picard's zest for learning and respect for other cultures isn't just good for drawing room conversation. It can come in handy when the usual channels of diplomacy don't seem to cut it. It takes a lot of sand to look a Klingon military governor in the eye and call him. . . well . . . this surely isn't the type of place to translate the vile, Klingon curses that Picard spews forth. That Patrick Stewart can do this with such resolve (and without laughing!) proves he really earned his paycheck that day. Below, behold this awesome moment from the season 4 episode "The Mind's Eye"
---
8. Starship Mine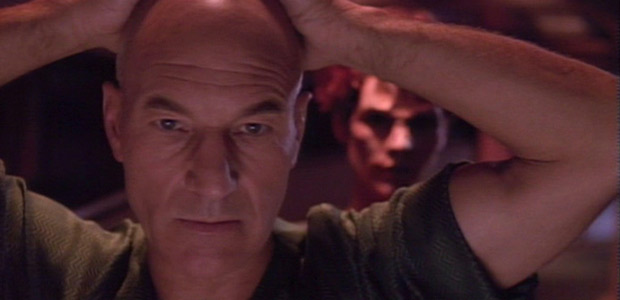 I have now firmly established Jean-Luc Picard as a scholar and an aesthete, so I feel compelled to point out that the man can kick ass when needed. In season 6's "Starship Mine" he single-handledly triumphs over a band of marauders who attack the Enterprise when it is empty. (It's basically getting sprayed for bugs, in the form of a deadly red beam that, silly though it may be, works as a nice ticking clock.)
The best part, clearly, is when Picard sneaks up behind one of the terrorists and lays him out with a Vulcan Nerve Pinch. (Note: Kirk once remarked to Spock "you've got to show me how to do that" but he never did.) For fans it is especially exciting because the actor that Picard lays low is none other than Tim Russ, who would later play the Vulcan Tuvok on "Voyager."
---
7. The Line Must Be Drawn HERE!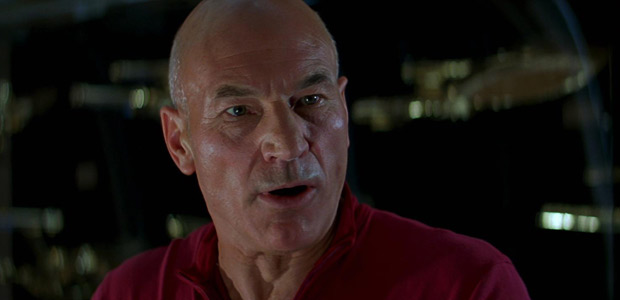 There's some more of the physical Picard in "Star Trek: First Contact," without question the best of the Next Generation-era films. But before he swings above toxic fumes to break the spine of the Borg Queen, he unleashes some pure (and very dramatic) rage at Alfre Woodard in his ready room.
She accuses him of letting his previous encounters with the Borg (see below) dictate his refusal to set the Enterprise to self-destruct. She calls him obsessed, like Ahab hunting the whale. No! Picard shouts. Noooooooaoaawawwawwawwooawww! And he smashes a display case of model starships. "They invade our space and we fall back! They assimilate entire worlds and we fall back! Not again!"
It's a powerful moment (and a reminder that Patrick Stewart is a real actor) but, of course, he soon realizes that Woodard is correct. He makes preparations to blow up the ship, and then fate steps in the way.
---
6. The Ressikan Flute
No one said all of these moments had to be fraught with action or conflict. They do, however, need to be rich in drama.
At the tail end of season 5's "The Inner Light" (frequently selected as the best TNG episode ever) Captain Picard has to somehow try and shove aside the emotional earthquake that the past forty-years of his life has only been an implanted experiential hallucination. And yet, he lived a rich life, had a family he loved and watched a civilization die. He also learned how to play a small flute and, in the solitude of his quarters, accompanied only by the rumble of the warp core, he plays a few notes that show that he isn't going to just turn his back on his other life. It's a simple moment, but it is enough to bring tears to any true fan's eyes.