"The Host" trailer shows a Stephenie Meyer world very different than "Twilight"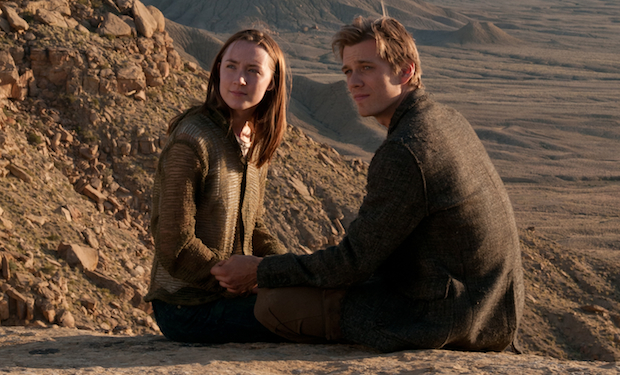 Posted by Terri Schwartz on
Say what you will about Stephenie Meyer, but the new movie based on her novel "The Host" looks freaking great.
"The Twilight Saga," this is not. Sure, "The Host" has its love story, but the more interesting part for us is the fact that it's directed by "Gattaca" helmer Andrew Niccol (who we'll admit didn't impress us with "In Time," but has in the past) and the fact that it tells the story of a different sort of alien invasion. Add that to the fact that the flick looks like it draws great performances from leading lady Saorsie Ronan, and we're sold.
This new full-length trailer gives newcomers to the story a better sense of the plot than the previous teaser trailer did. It's also important to note that this isn't the same trailer shown at Comic-Con, and is actually a more cohesive explanation of "The Host's" plot than that was.
The flick follows a rebel named Melanie Stryder who gets captured by the alien race that has taken over much of humankind and gets implanted with an alien known as Wanderer. The rest of the story unfolds as Melanie's consciousness fights against Wanderer's and, eventually, ends up convincing the alien that her invading race is in the wrong. All that takes place behind Ronan's eyes, and it looks like she does a great job portraying that internal struggle.
Of course, critics will say that this is just "Invasion of the Body Snatchers" with a love story and, in many ways, it is. But does that mean it still can't be good? We don't think so. "The Host" is set to hit theaters on March 29, 2013.
What did you think of this trailer for "The Host"? Tell us in the comments section below or on Facebook and Twitter.