"The Hobbit": Peter Jackson and Martin Freeman talk, a new poster arrives, final video blog debuts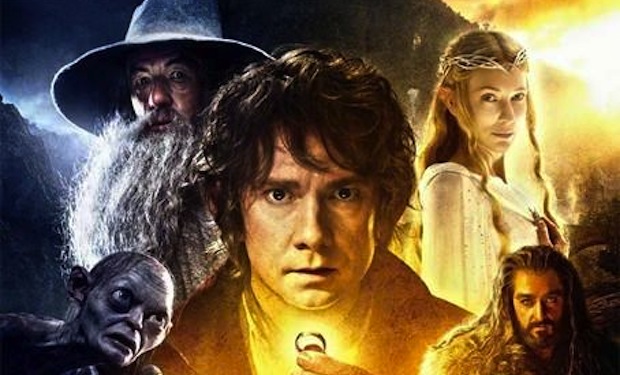 Posted by Terri Schwartz on
"The Hobbit: An Unexpected Journey" is only a few weeks away, which means the pressure's on for Warner Bros. to sell fans on the upcoming movie. Unless you've been living under a rock, it's hard not to be excited for the new Middle-earth trilogy, and the December issue of Total Film is looking to fuel that interest.
Snippets from the cover story have made their way online, and in them director Peter Jackson sets up where we'll find Bilbo Baggins in the new movie.
"He really wants to be left alone, to put his feet up in front of a fire," Jackson said. "And then suddenly he's dragged off on an adventure. So there's a lot of comedic opportunities. But you want to feel the truth of those moments. You don't want them to be played just for laughs. When he's holding the sword and faced with a troll, you want the sense of danger, and Martin's brilliant at juggling the tone, that ability to have one foot in the dramatic world and one in the comedic world."
The magazine also spoke to Martin Freeman, who opened up about the decision to turn "The Hobbit" into a trilogy instead of just making it two films. He said that it hasn't changed how the movies feel to him.
"It's not really daunting," he said. "It is unexpected compared to where we were, but it's the same thing of telling the story and doing your bit, whether it's one or two or three films. There's just, you know, more of it! But there are so many of us involved, it doesn't really hang on anyone's shoulders."
In addition, there's also a new international poster for "The Hobbit" that can be seen teased above. If you want to see the Japanese poster in its entirety, click on over to Comic Book Movie.
If that wasn't enough "The Hobbit" fun for you, here's Jackson's final video blog:
"The Hobbit: An Unexpected Journey" tells the first part of Bilbo Baggins' epic adventure from Hobbiton to the Lonely Mountain. Along the way, he'll befriend dwarves, face off against goblins, meet a dragon and discover the One Ring that will change his life forever.
"The Hobbit: The Desolation of Smaug" is due in theaters on December 13, 2013, while "The Hobbit: There and Back Again" comes out July 18, 2014.
Are you looking forward to "The Hobbit"? Tell us in the comments section below or on Facebook and Twitter.