Ten reasons to love Steve Martin that aren't his movies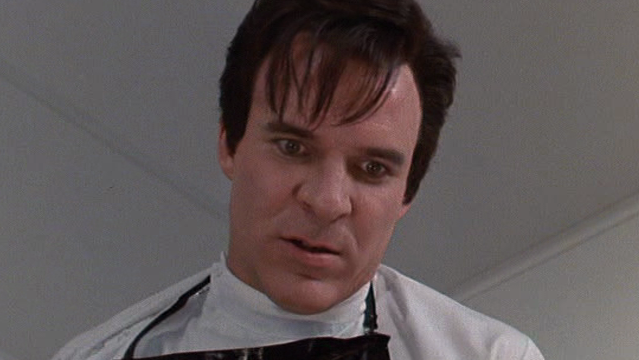 Posted by Andy Hunsaker on
6. The Stand-Up Arriveth
Steve Martin was the first stand-up comedian who became so insanely popular that he could not only play arenas, he could sell them out – something only rock stars could manage before that. He adopted a white suit look that became iconic, and the heights he reached were so spectacular that the pressure he put on himself to keep getting better conflicted with the need to do the same bits over and over to meet audience expectations. It's part of what eventually led him to walk away from stand-up altogether. Of course, we love a lot of what he's done since then, and one supposes it's always better to leave at the top of your game than waiting until after the wave breaks and you come crashing down to earth.
---
7. Television Specials
Steve's segue into movies began with The Jerk, of course, but the move away from stand-up also included a series of comedy specials on NBC, many of which have been mostly unavailable until now. They featured the sketch comedy talent honed on SNL along with short films intermingled, and they helped ease the loss of his talent from the stage. You couldn't pull off a sketch with chimps and elephants in a solo act.
---
8. Author, Author
His talent wasn't gone from that stage forever, though, because he complemented his film career with writing books like "Cruel Shoes," "Pure Drivel," "Shopgirl" and "An Object of Beauty," among others, as well as a well-received play entitled "Picasso at the Lapin Agile." The latter told the story of a conversation between Albert Einstein and Pablo Picasso, comparing the creativity and talent required for science with those required for art – a longtime passion for Steve. More recently, he published "Born Standing Up," a memoir of his rise to fame in stand-up – a subject he pretty well ignored for many years, until after the clamor for him to return had died away and we'd all grown to appreciate him the person into which he had matured. It's a fascinating insight into where his mind was when he was making us all laugh.
---
9. Hosting the Oscars
When Steve did finally return to performing live, it took a prestige event like hosting the Academy Awards to bring him out of retirement. The man who took the stage in front of hundreds of millions of people was not the same comedian that played huge arenas 20 years prior. No arrow through the head, no balloon animals – just a reserved class act who knew his audience and poked holes in the pomp and circumstance around Hollywood self-congratulation without insulting the proceedings outright. He's been back to host twice since, once with his SNL-hosting rival Alec Baldwin, and he's always gotten a favorable reception for handling a very tough gig.
---
10. By the way, he's damn good at the banjo
From the beginning of his stand-up career to the music albums like The Crow and Rare Bird Alert (with the Steep Canyon Rangers) he's released in recent years, one amazing talent that's always been with Steve is his stunning ability with the banjo. He started at age 17, with help from John McEuen of the Nitty Gritty Dirt Band, and he applied his same obsessive knack for precision to learning it as he did in honing his stage show. He would show off with a little "Foggy Mountain Breakdown" in the early days, while also providing his own theme song as a "Ramblin' Guy" and claiming it's impossible to feel sad when playing the banjo. He's become quite the public enthusiast of late, having performed with the late, legendary Earl Scruggs, and he's even started his own annual award for recognizing unheralded rising banjo players. He can play both the Scruggs style and the clawhammer style, and he's only gotten better as the years have gone by. Comedy, drama, writing, fine art and music. A Renaissance Man indeed.
---
What is your favorite reason to love Steve Martin? Tell us in the comments below or on Facebook and Twitter.