Ten reasons to love Steve Martin that aren't his movies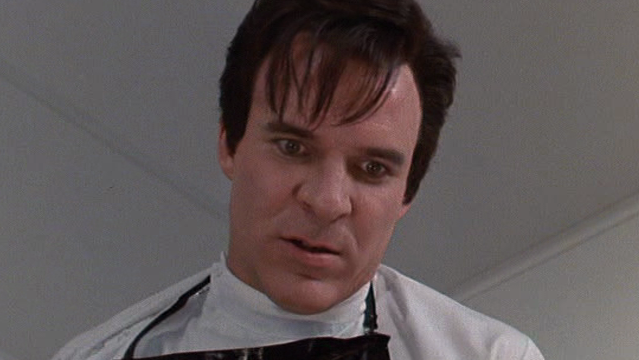 Posted by Andy Hunsaker on
The formerly wild and still somewhat crazy guy known as Steve Martin is a national treasure. He's an intellectual with a strong bent towards the goofy, he's a weirdo with a well-developed appreciation for the finer things, and to duel with him at banjos is to court certain doom. Yes, he's a movie star, but we've discussed those before. With the much sought after release of his stand-up concerts and TV materials finally coming to pass with "Steve Martin: The Television Stuff," it's high time to illustrate what makes this guy a Renaissance Man to be admired for all time. So here are ten reasons to love Steve Martin that aren't his movies.
---
1. The Smothers Brothers Comedy Hour
Steve's first big showbiz break came when he got a job writing for The Smothers Brothers show, where he won an Emmy with the rest of the writing staff. When Tom and Dick Smothers learned that Steve wasn't officially on the payroll, but rather was getting paid out of head writer Mason Williams' own pocket, they gave him a shot on screen. Steve worked in a magic shop when he was younger, and he mastered the art of magicianship well enough to completely subvert it. So here's one of his earliest TV appearances (not counting his guest spots on The Dating Game).
---
2. The Stand-Up Cometh
Steve was always a different kind of comedian. He could do some standard observational stuff, as you can see here in this early appearance on Midnight Special where he discusses the advent of electric hand dryers and seat belt buzzers, but you could see his real taste for the absurd developing as well. He always loved to flummox audience expectations by going in a weird non-sequitur sort of direction, and this was a stop on his way to worldwide icon status.
---
3. The Tonight Show with Johnny Carson
Steve was one of Johnny's favorite acts, and back in those days, appearing on Carson once could change your life. Appearing as often as Steve did meant you were a bona fide celebrity. He always made an effort to bring some new piece of comedy business along with him whenever he appeared on talk shows – and he still does to this day. His work ethic and reliable talent even impressed Johnny enough that he asked Steve to guest-host The Tonight Show for him, and what he did with that, you can see right here.
---
4. Saturday Night Live
Steve's arrival on the comedy scene coincided with the debut of this underground sketch comedy show tucked away on the middle of the night on a weekend, and he guest-starred alongside The Not Ready For Prime Time Players so often that many people forget he wasn't technically one of the. Steve's appearances would always spike the ratings of SNL, and that platform helped rocket him into comedy superstardom. For example, the swinging Festrunk Brothers, starring Steve and Dan Aykroyd as horny Czechs trying to cruise successfully for foxes with big American breasts, made him well known as a "wild and crazy guy," and audiences would come to expect him to bust that out in his own shows. He's hosted SNL 15 times, one shy of the record set by Alec Baldwin, who made it his mission to try and eclipse Steve's benchmark.
---
5. The Comedy Albums
Of course, a stand-up comic as refined in his precision as Steve Martin was made it perfect for records that people could listen to in their homes, even though a great deal of his act was based on mugging and physicality. On his albums – Let's Get Small, A Wild and Crazy Guy, Comedy Is Not Pretty – a lot of those classic bits still translated, thanks to his energy, but he was also able to get into more intellectual comedy, discussing philosophy, religion and languages – showcasing where his tastes would eventually take him. That said, his non-sequitur appreciation was very much present and highly entertaining, as evidenced by this meaningful little song his grandmother used to sing to him.