As you prepare for Trapped in the Closet, here are ten great sing-along flicks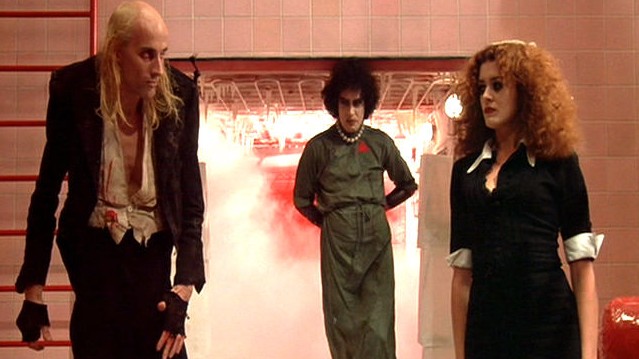 Posted by Andy Hunsaker on
When you think about musical movies, your mind generally tends to gravitate towards Disney cartoons and Peabo Bryson – or at least mine does – but musical doesn't have to mean the films that glaze your eyes over because children want to watch them over and over and over again. In fact, they can be crazy, twisted affairs with hookers, transvestites, race cars, demons, murder, and man-eating monsters. So let's take a look at ten great sing-along movies that don't necessarily cater to the kiddies.
And when you're finished reading, don't forget to mark your calendars for this Friday at 9/8c, when IFC is airing all-new chapters from R. Kelly's legendary hip-hopera Trapped in the Closet.
---
1. "The Rocky Horror Picture Show"
Of course, we have to start here, with the gloriously schlocky and deviant 1975 classic that boasts the longest theatrical run in history that endures to this day. From "Science Fiction Double Feature" to "Sweet Transvestite," it remains the epitome of the midnight movie, and has a unique element of audience participation that's been the key to its longevity. What other show can you go to that encourages you to throw toast and toilet paper around the room? That, and Tim Curry's there's-no-other-word-for-it-but-delicious performance as Dr. Frank N. Furter, the glamorously mad scientist determined to create himself a beautifully sexy Charles Atlas kind of man for carnal pleasures, much to the chagrin of the straight-laced Brad Majors and Janet Weiss. (See also: The First Nudie Musical)
---
2. "Grease"
You can't leave this 1978 staple film about 1950s Americana out, either. John Travolta's Danny Zuko and Olivia Newton-John's Sandy Olsen gave us chills and were electrifyin', and you have to love any movie where the moral of the story is that you shouldn't be afraid to slut it up a bit to prove your love to a guy who's been squarin' it up for you. Then there's the whole Kenickie/Rizzo knock-up scare that puts this firmly into reasonably-mature audience territory – although, truth be told, "Greased Lightning" is where some of us first learned a goodly number of dirty words. (See also: Hairspray and, if you must, Grease 2)
---
3. "The Muppet Movie"
Hey, there are certainly monsters and weirdos here! Well, okay, you can argue that Jim Henson's wonderful 1979 film was indeed geared towards kids, but the appeal of The Muppets goes far beyond that, especially when you consider how underrated Henson was as a songwriter. Whether it's Kermit and Fozzie driving cross country and singing the infectious "Movin' Right Along," or Dr. Teeth and The Electric Mayhem busting out "Can You Picture That?" – you can't help but get a bouncy little feeling of joy and laughter in your soul. And I defy you to not have feelings upon feelings whenever you listen to that quiet banjo accompanying the ballad of a frog with big dreams and bigger questions called "Rainbow Connection." (See also: The Muppets)
---
4. "Little Shop of Horrors"
This one's wild – Frank Oz of Muppet fame directing a 1986 film based on a 1982 musical based on a 1960 Roger Corman movie that featured one of Jack Nicholson's earliest roles (one that would be filled by Bill Murray in Oz's version). That Muppet pedigree was certainly necessary when creating a massive man-eating plant that can sing and dance while Rick Moranis' put-upon Seymour Krelborn tries to find a way to feed its gruesome appetites. The love of his life, Ellen Greene's Audrey, is mixed up with a nasty piece of dental work played brilliantly by Steve Martin, and his masochistic cruelty makes him the perfect victim for Audrey II, the Mean Green Mother From Outer Space.
---
5. "Repo: The Genetic Opera"
There are elements of both Rocky Horror and Little Shop in this 2008 goth-rock opera, but it's got a much darker tone than either of those films. Darren Smith and Terry Zdunich composed and wrote the play the movie sprang from, and Zdunich appears as the GraveRobber – our pseudo-narrator through this futuristic world where Anthony Head is a repossessor of organs (an idea that would be ripped off in the 2010 dud Repo Men) who is trying to protect his daughter (Alexa Vega) from the harsh realities of the world in twisted ways. This underseen effort also absolutely qualifies as the most interesting thing Paris Hilton has ever done in her life. (See also: Sweeney Todd: The Demon Barber of Fleet Street and, for more Head, "Once More, With Feeling," the Buffy The Vampire Slayer musical episode – and, while we're at it, Dr. Horrible's Sing Along Blog)