"Star Trek Into Darkness" trailer to premiere before "The Hobbit"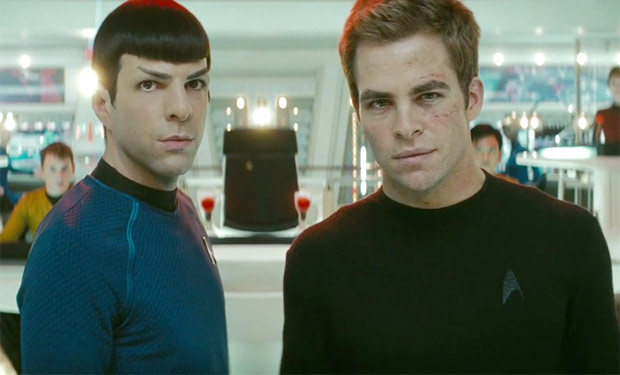 Posted by Terri Schwartz on
Can't make it to one of the 500 IMAX screens showing the nine-minute prologue for "Star Trek Into Darkness" before "The Hobbit: An Unexpected Journey"? Don't worry, because you'll still be able to catch a first look at the "Star Trek" sequel — as long as you still go see "The Hobbit."
The news comes via TrekMovie.com, who reports that all non-IMAX screenings of "The Hobbit" — including those showing at 48 frames-per-second — will include the first trailer for "Star Trek Into Darkness." This will be your average theatrical movie trailer, so don't expect it to be some shorter version of the prologue.
TrekMovie also spoke to leading man Chris Pine about the IMAX footage announcement, and he teased that people have a lot to be excited about even though he had no idea at the time that the prologue would be playing before "The Hobbit."
"The thing with JJ [Abrams] is that he's like the master puppeteer, so it's like none of us know anything," he said. "I didn't know that it was going to be shown, I don't know what the footage is, what's exciting for that for me is that I get excited so I want to go to the theatre to just to check it out. I'm excited for people to see this movie, it's bigger than the last one, we have a great villain, I can't wait until it's released."
"Star Trek Into Darkness" is directed by J.J. Abrams and stars Pine, Zachary Quinto, Zoe Saldana, Simon Pegg, Anton Yelchin, Karl Urban, John Cho and Bruce Greenwood. Newcomers Alice Eve and Benedict Cumberbatch have been added in undisclosed roles. The film is slated to hit theaters on May 17.
What do you hope is shown in the "Star Trek Into Darkness" trailer? Tell us in the comments section below or on Facebook and Twitter.