"Star Trek Into Darkness" nine minute prologue to play before "The Hobbit" 3D IMAX screenings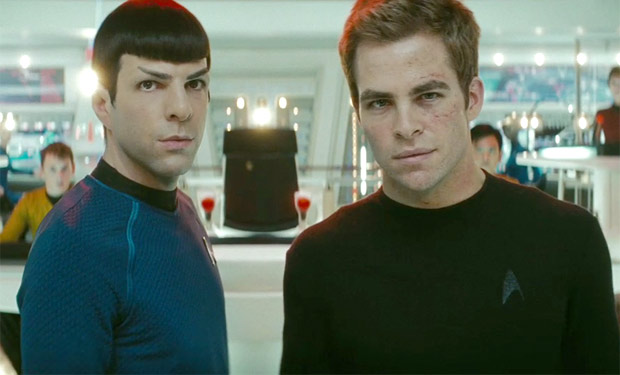 Posted by Terri Schwartz on
J.J. Abrams has waited a long time to show the public anything from his upcoming "Star Trek" sequel, "Star Trek Into Darkness." The film has been surrounded by secrecy, but now Abrams is planning to lift up the curtain and let us have a long look at what's behind it.
Paramount Pictures has announced that a nine-minute prologue for "Star Trek Into Darkness" will play before 3D IMAX showings of "The Hobbit: An Unexpected Journey" on 500 IMAX screens around the country. This isn't the first time a studio has used this tactic before. Warner Bros. did it for both "The Dark Knight" and "The Dark Knight Rises," while James Cameron's "Avatar" had its own Avatar Day to allow fans to get an early look at the 3D footage.
It's unclear what exactly will be playing before "The Hobbit," but our guess is that it will be one long scene instead of an extended trailer. If "Star Trek Into Darkness" follows in the footsteps of the two Batman movies, the sequence in question will be the movie's opening nine minutes. For those of you who remember "Star Trek's" opening scene, that could be some pretty exciting news.
"Star Trek Into Darkness" marks the return of Abrams in the director's chair and stars Chris Pine, Zachary Quinto, Zoe Saldana, Simon Pegg, Anton Yelchin, Karl Urban, John Cho and Bruce Greenwood. Newcomers Alice Eve and Benedict Cumberbatch have been added in undisclosed roles. The film is slated to hit theaters on May 17.
Will you go see "The Hobbit" in 3D IMAX just to see this footage? Tell us in the comments section below or on Facebook and Twitter.