"Star Trek Into Darkness" official plot synopsis teases villain character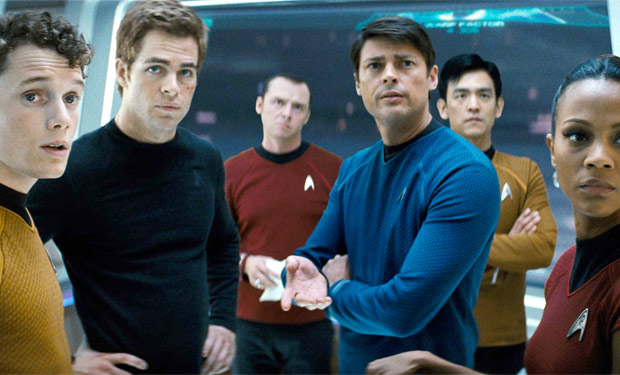 Posted by Terri Schwartz on
At long last, "Star Trek Into Darkness" has its first official plot synopsis. Sure, we haven't seen anything from the movie beyond one vague still, but the promise of a "manhunt" is causing us to believe that the wait has been worth it.
The synopsis was posted on the Paramount Pictures press site, and offers a look into who the villain of the film could be. Many assumed that Benedict Cumberbatch would be playing Khan, but the evidence here seems to point to him portraying Gary Mitchell. That would explain why he was seen in set photos wearing a Starfleet uniform.
Here's the synopsis in its entirety:
In Summer 2013, pioneering director J.J. Abrams will deliver an explosive action thriller that takes 'Star Trek Into Darkness.' When the crew of the Enterprise is called back home, they find an unstoppable force of terror from within their own organization has detonated the fleet and everything it stands for, leaving our world in a state of crisis.

With a personal score to settle, Captain Kirk leads a manhunt to a war-zone world to capture a one man weapon of mass destruction. As our heroes are propelled into an epic chess game of life and death, love will be challenged, friendships will be torn apart, and sacrifices must be made for the only family Kirk has left: his crew.
"Star Trek Into Darkness" is directed by J.J. Abrams and stars Pine, Zachary Quinto, Zoe Saldana, Simon Pegg, Anton Yelchin, Karl Urban, John Cho and Bruce Greenwood. Newcomers Alice Eve and Benedict Cumberbatch have been added in undisclosed roles. The film is slated to hit theaters on May 17.
What do you think of this plot synopsis? Are you looking forward to "Star Trek Into Darkness"? Tell us in the comments section below or on Facebook and Twitter.