"Star Trek Into Darkness" to be first movie shot in IMAX that's presented in 3D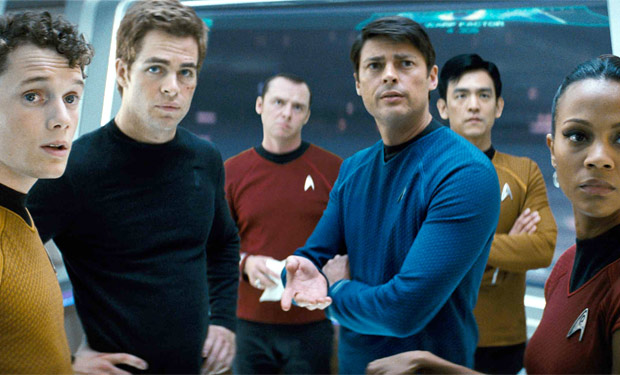 Posted by Terri Schwartz on
Considering the fact that a nine minute "Star Trek Into Darkness" prologue is playing before 3D IMAX screenings of "The Hobbit: An Unexpected Journey," it is safe to assume that the upcoming "Star Trek" sequel will also be playing in both formats. But while the movie was filmed with IMAX cameras, it wasn't also shot in 3D.
This news comes via Movies.com editor Eric Davis, who confirmed that "Star Trek Into Darkness" is "the first live-action movie w/ scenes shot with IMAX cameras that will be presented in 3D." Parts of the film were shot with IMAX film cameras, though the footage is being post-converted into 3D.
In other "Star Trek Into Darkness" news, Zachary Quinto has set the record straight about a quote of his that was being misconstrued. While talking to Entertainment Weekly, Quinto seemed to imply that his time as Spock "is coming to an end," but he now says the line was taken out of context.
"simmer down kids. rumors are rumors for a reason. quotes out of context. let's let the second movie come out before we talk about a third…" Quinto tweets.
"Star Trek Into Darkness" is directed by J.J. Abrams and stars Pine, Zachary Quinto, Zoe Saldana, Simon Pegg, Anton Yelchin, Karl Urban, John Cho and Bruce Greenwood. Newcomers Alice Eve and Benedict Cumberbatch have been added in undisclosed roles. The film is slated to hit theaters on May 17.
Will you be seeing "Star Trek Into Darkness" in 3D IMAX? Tell us in the comments section below or on Facebook and Twitter.