Smaug makes his first appearance in new "The Hobbit" TV spot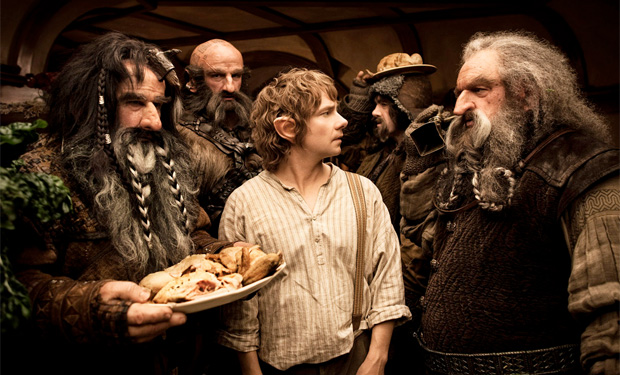 Posted by Terri Schwartz on
At long last, we have our first look at Smaug in Peter Jackson's "The Hobbit" trilogy.
A new TV spot for "The Hobbit: An Unexpected Journey" seems to tease much more than just the first movie. In it, fans are treated to their very first — albeit quick and poor quality — look at the dragon Smaug. The footage shows Smaug flying over what looks to be the village of Dale and breathing fire on its citizens.
Unfortunately we didn't get to hear any of Benedict Cumberbatch's voice work for the character. He teased in the past that we'd only see Smaug's eye open at the end of "An Unexpected Journey," and then get to see the entirety of the dragon in "The Desolation of Smaug."
"It was just me as well, with four static cameras and all the sensors. Then the boys at Weta work their magic," Cumberbatch said of his experience doing voice work for the movie. "It's very freeing, once you put the suit on and the sensors. I've never felt less encumbered, actually. And you have to be. You have to be free."
"The Hobbit: An Unexpected Journey" tells the first part of Bilbo Baggins' epic adventure from Hobbiton to the Lonely Mountain. Along the way, he'll befriend dwarves, face off against goblins, meet a dragon and discover the One Ring that will change his life forever.
"The Hobbit: The Desolation of Smaug" is due in theaters on December 13, 2013, while "The Hobbit: There and Back Again" comes out July 18, 2014.
What did you think of your first look at Smaug? Tell us in the comments section below or on Facebook and Twitter.