"Silent Hill: Revelation 3D" cast explains why the video game adaptation works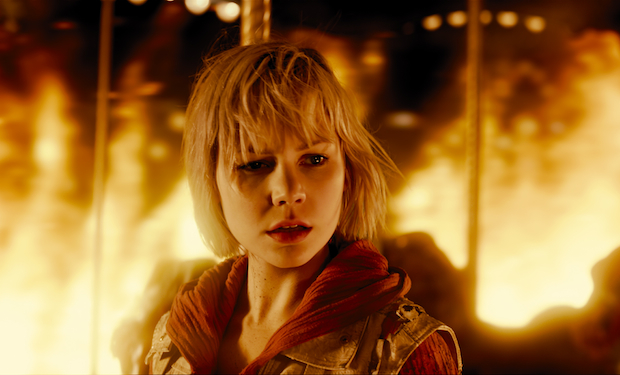 Posted by Terri Schwartz on
"Silent Hill: Revelation 3D" opens today and seemingly kicks off a new wave of video game movies. Movie studios are snapping video game properties up like crazy, so it will be interesting to see whether audiences embrace this new sequel from director Michael J. Bassett.
It's been six years since "Silent Hill" first hit theaters, and that film offered up a slightly different take on the game while still staying true to its core horror theme. This time around, Bassett was brought on to both write and direct the project and it's clear from talking to him that he's a fan of the series.
"[It's] so rich in mythology that there's lots and lots of things to explore there, but more than anything it's lie what's the natural progression from a little girl's story in the first movie to where we go with it," he told IFC on the "Silent Hill: Revelation 3D" premiere red carpet. "What I loved is that this story is about a daughter, and the first movie is a mother trying to find her daughter, so I think there's a sort of symmetry here."
"Revelation" takes place about five or six years after the events of "Silent Hill" and is based on the "Silent Hill 3" video game. In it, Heather (Adelaide Clemens), formerly known as Sharon in the first movie, must find her missing father (Sean Bean). Her quest draws her into the world of Silent Hill, where she must face off against such terrifying creatures as deformed nurses, Red Pyramid, and even her dark incarnation, Alessa.
Fans have recognized from the beginning how similar Clemens looks to Heather in the game, and that connection seems to be one of the strong points of the movie. It's clear from that element that Bassett is doing his best to honor the "Silent Hill" series.
"I think that's what got me the role," Clemens told us. "Yeah, I look like the girl in the game."
In the past, Clemens has recounted the way producer Samuel Hadida followed her around the 2011 Sundance Film Festival until she agreed to his movie. We asked him for his take on the story when we caught up with him at the premiere.
"I saw a young lady looking like one of the characters of the movie, like Heather, and I said, 'She looks like Heather,'" Hadida said. "I just followed her and I said, 'You see this [game] cover? It looks like that you are the same person of this cover, so I want you to come in LA and meet the director and try to see if you can be in the movie,' and she says to me, 'What's happening? I don't understand. What are you talking about?'"
He continued, "She was just looking [like Heather]. It's like if you see the ghost of Silent Hill going to you, and I say maybe she's going to bring me to somebody else. I was very excited."
If Clemens' Heather is very similar to the character in the game, then Kit Harington's Vincent is the opposite. Bassett drastically changed who and why Vincent was in "Silent Hill: Revelation 3D" from his role in "Silent Hill 3," to the point that Harington couldn't talk about his role on the red carpet and was discouraged from playing the game at all.
"My lips are sealed. I can't say much, but he's a character who has a change of heart, and that's all I can say. He was an interesting guy to play. He's got a lot of secrets he has to hide throughout the film," Harington teased. "It's fair to say I didn't [do research] because I was told not to by the director and because it differs, my character differs, so I was told not to play the game, which was a relief for me because I get scared in those things."
It remains to be seen if fans will appreciate the movie, but it at least has one supporter: "Silent Hill" video game producer Tomm Hulett. He had already seen the film by the time we caught up with him, and it has received his stamp of approval.
"I think it does really well, actually," he told IFC. "The first movie was a little different from the game, which is fine because it's a movie, they can do their own thing, but this movie not just is a sequel to that but it also brings it back to the games a little bit too, so the really serious fans who kind of want it to be exactly like the game, they'll find more in this movie that rings true to what they're looking for, I think."
At least fans can expect the 3D to be good. Bassett said that not a frame of the movie was post-converted because he feels it's important to capture the depth 3D can film while you're shooting a scene. Though he concedes that there are some drawbacks to using 3D, he has become a full-hearted fan of the medium.
"If you're making a movie about other worlds, then 3D is a great way of engaging the audience in that world," he said. "I think what it does bring is an otherworldliness, and it benefits a movie like 'Silent Hill' enormously."
So what else should viewers look forward to? Clemens teased us with her two favorite elements of the film.
"I think the nurses are really cool, I think you'll have fun there," she said with a smile. "And Jon Snow's there too, so it's kind of amazing."
"Silent Hill: Revelation 3D" is out in theaters today, October 26.
Are you intrigued by "Silent Hill: Revelation 3D"? Tell us in the comments section below or on Facebook and Twitter.