Selma Blair talks "In Their Skin," horror and indie filmmaking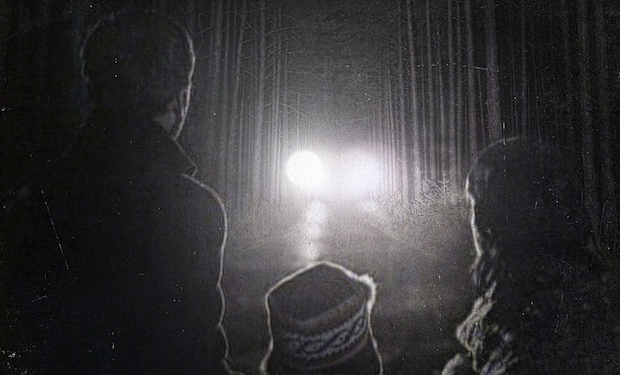 Posted by Terri Schwartz on
A family alone in a house. A stranger comes knocking. Terror ensues. This describes the plot of many a horror movie, yet somehow the concept still feels terrifying in Jeremy Regimbal's debut feature "In Their Skin."
The film stars Selma Blair and Joshua Close, who also wrote the film, as a couple recovering from a tragedy that pushed them to take their son Brendon to their country home for some quality family time. But not long after they settle in do their neighbors — Bobby, Jane and their son Jared — come to visit. What starts off as an uncomfortable, forced dinner turns into the previously mentioned terror as the three people turn out not to be who they say they are.
IFC had the pleasure of speaking with Blair in a phone interview in anticipation of "In Their Skin's" release. During our conversation, we touched on what makes this type of thriller so consistently scary and what her experience has been like in the independent film industry.
IFC: I had the pleasure of watching "In Their Skin" last night not really knowing anything about it going in, and it was a lot scarier than I expected. You've worked in horror films and thrillers before, but I was curious what in particular drew you to this project?
SELMA BLAIR: Josh is a friend of mine and he wrote it and he had Jeremy come on, who has a great eye, and I thought he made the film look beautiful. But it was just a little project and I support these projects and, before I had the baby, I had the luxury of getting to be a part of them. I think the first film for first-time writers and directors is quite crucial, and to get it out there and start careers and hope for the best and see what their vision is is really exciting for me.
And I like the family drama aspect. I mean, this isn't like a big horror, gory movie. It's more of a quiet, scary family drama, almost. It took its time, which you don't see in films a lot. Really just letting you watch these people instead of just action, action, which I like. I think there's not a lot of those movies anymore. It's kind of poetic and took its time. I haven't seen the final cut of it, but just the idea that you're not safe in your own home and that you're already dealing with sadness, it was a very scary idea.
IFC: In your opinion, what do you think makes this kind of movie where, like you said, you aren't safe in your own home so consistently scary?
SB: There are so few of us that actually live so far off in the country alone now, that on its own is a big luxury, and you think, "Ah, I'm going to get away from it all and just be with my family." But when there's not a chance of that, and you don't have alarm systems and you're trying to be polite to your neighbors and just have people in your house quietly without thinking anything's going to happen, yeah, it's just scary. We've all had those nights with uncomfortable people and you wish they'd leave, and that's just a pain in the butt, but when you wish they'd leave and they come back and try to take over your lives, that's horrifying.
IFC: Have you ever been in a situation similar to that, or are you just speaking broadly?
SB: Yeah, no, no, god forbid, but it's my biggest fear. Being at home with the baby and alone at night, I hear a noise and I just pray that I would have what it takes to protect my child and myself. It's in my mind. It's every grown-up's fear.
IFC: When I was watching, I couldn't help but notice that James D'Arcy was channeling a serious Norman Bates vibe, and then I realized that he's playing Anthony Perkins, the actor who portrayed Bates, in the Anthony Hopkins "Hitchcock" movie.
SB: I know. Isn't that perfect?
IFC: It really was.
SB: Yeah, to see him in the Madonna film ["W.E."] and then to see him in in this and then Norman Bates, I can't wait. But it's so crazy to think that he's British. I mean, he's so versatile. But yes, I am excited to see him as Norman Bates.
IFC: Well I was curious if you knew if that vibe was intentional, because there sort of is a parallel in the characters.
SB: I don't know what was going through his mind. I know he hadn't booked the "Psycho" job yet, but maybe all creepy people are Norman Bates-ish. [laughs]
IFC: I guess so! You spoke earlier about how you support independent filmmaking and I actually just saw you in "Kingdom Come," the Daniel Gillies documentary, talking about the same thing. Can you talk about some of the struggles and successes you've had in independent filmmaking over the years?
SB: I go back and forth. I make films like "Cruel Intentions" and "Legally Blonde" and "Hellboy," which is a huge film, but then I make a ton of independent ones. They're hard. You have the luxury of not having huge studios and huge dollars telling you what to do so you get to do what you want to do, but usually it is with first-time directors and people figuring it out and it's a real labor of love. There are long days on set and everyone's kind of learning.
The film business's harder than ever right now. Getting people to go see movies, I just, I want filmmakers to be able to tell their stories. I worked with Todd Solandz, and he's kind of like the indie king, and he jokes that each movie makes less than the last, and I'm like, god, if someone as amazing as Todd has those movies come out in fewer and fewer theater, oh my god, this is such a dying breed. Is it just going to be "Transformers" are the only movies that are going to be available for us — which are great and fun and I would love to be a part of that too — but it's so scary to think that independent films are dying.
IFC: I know a lot of filmmakers are turning to VOD as a way to distribute, so do you think that could be the way of the future?
SB: I mean I think any way that people can see movies I'm all for, but I had one of the first movies that ever came out on iTunes, and that was Ed Burns' "Purple Violets." It never got a theatrical release, it just debuted on iTunes, the first movie to come out on iTunes, and it did okay, but you're not going to make that huge money unless you're out there and getting people to see movies in the theaters and really having that movie experience, so I don't know about the Video On Demand and I don't know how actors will ever make a living when it just goes straight to On Demand because I think the only people who get paid for that are producers, and I don't even know how much that is. So great, I'm glad they're available, but I don't know how people are going to make a living.
"In Their Skin" comes out in select theaters on November 9.
What did you think of Blair's thoughts on the independent filmmaking business? Do you agree with her about VOD? Tell us in the comments section below or on Facebook and Twitter.