"Riddick" director update offers first look at movie's logo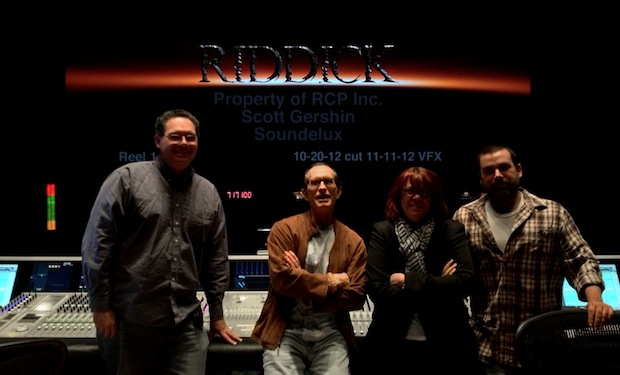 Posted by Terri Schwartz on
Director David Twohy is hard at work making the upcoming "Chronicles of Riddick" sequel, "Riddick," come together. He posted a new update on the film to his personal blog, and also included our first look at the "Riddick" logo.
"Been pulling 14-hour days trying to finish 'Riddick,'" Twohy writes on his blog. "My typical day starts at 9am with intensive visual effects meetings, sweating out the details of our 900 VFX shots. Then I jet across town to the mix stage, Soundelux, where I supervise the sound, balancing out the often-competing elements of music, sound fx, sound design, and dialog. At night I hit the lab, Technicolor in Hollywood, staying until midnight to do 'DI work' — color-correction of the movie."
He continues, "This is where David Eggby and I have one last chance to get the images right, dropping in grads and power windows to finesse what we shot on set. It's a great tool, the Digital Intermediate. Kind of like Photoshop for movies. Gotta love it. Gotta love the challenge of bringing it all home."
"Riddick" follows the title character after he's been betrayed by his fellow humans and left for dead on a desolate planet. While he stays busy fighting for his survival against alien predators, bounty hunters from throughout the galaxy flock to the planet to try to kill him. But they're actually all pawns in his quest for revenge, and he attacks them before returning home to Furya to save his planet from destruction. The film stars Vin Diesel, Karl Urban and Katee Sackoff, and is expected in theaters in 2013.
Are you looking forward to this upcoming "Riddick" film? Tell us in the comments section below or on Facebook and Twitter.