R. Kelly 101: Everything you need to know about the singer before Trapped in the Closet returns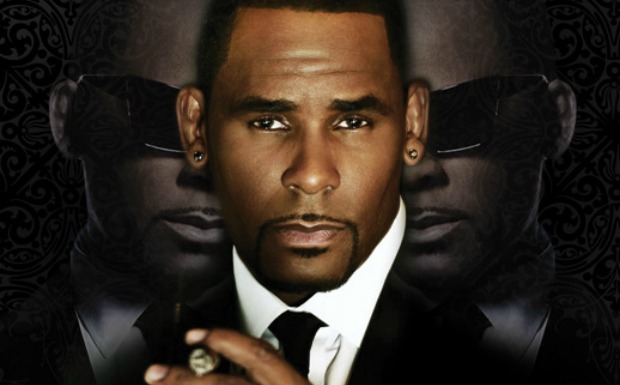 Posted by Melissa Locker on
As we get ready for the much-anticipated return of R. Kelly's hip-hopera Trapped in the Closet, on November 23 at 9/8c, we're taking a look back on the life and career of the show's star and creator, R.Kelly.
Robert Sylvester Kelly was born on Jan. 8th, 1967, which makes him a Capricorn, ladies. Legend has it that his first foray into singing was at a talent show where he busted out with the Stevie Wonder classic "Ribbon in the Sky." After proving his talent, the young Kellz was happy to share the spotlight, so he formed a band called Public Announcement. In January 1992, a few days after his 25th birthday, Public Announcement recorded their debut album, Born Into the '90s, featuring swoon-worthy smooth R &B songs like "She's Got that Vibe," "Honey Love," and, of course, "Slow Dance":
As with most of the music that R. Kelly touches, the album was a major success, selling over a million copies. Kelly and Public Announcement eventually parted ways, but clearly that wasn't the end of the road for our Kellz. Once he had a foothold in the music industry, he wasn't going anywhere. Instead, he went solo, dropping his debut 12 Play" in 1993. The album's single, "Bump N' Grind", was Kelly's first chart topper, spending a record-breaking 12 weeks at number one. Thanks to his smash hit, Kelly found himself in high demand as a writer, producer, composer remixer and mentor. His protégé Aaliyah released her debut album Age Ain't Nothing But a Number, in 1994. The album was entirely written and produced by R. Kelly and sold over three million records. He also remixed songs for artists including Janet Jackson, Barry White and Toni Braxton.
In 1995, Kelly released his second album, R. Kelly. The album was Kelly's first to reach number one on the Billboard 200 chart, and it also reached number one on the R&B album charts. The album had three platinum singles: "You Remind Me of Something," "I Can't Sleep (Baby If I)," and "Down Low (Nobody Has To Know)." That same year, Kelly garnered his first-ever Grammy nod for his work writing, producing and composing Michael Jackson's number one hit "You Are Not Alone."
Then came "I Believe I Can Fly." The song was originally released on the soundtrack for the film Michael Jordan/Bugs Bunny film "Space Jam," but soon became one of R. Kelly's biggest hits. "I Believe I Can Fly" reached No. 2 on the Billboard Hot 100 and R. Kelly won three Grammys including Best R&B Song, Best Male R&B Vocal Performance and Best Song Written for a Motion Picture. Can you blame the Grammy voters for falling in love with the song?
After the runaway success of "I Believe I Can Fly," R. Kelly was asked to contribute songs to movies like "Batman & Robin" ("Gotham City") and "Life" ("Fortunate").
Fun Fact about R. Kelly: He's not just a pretty face, wildly talented singer and acclaimed writer and producer, he's also a baller. In 1997, he was signed to play basketball for the Atlantic City Seagulls of the now-defunct United States Basketball League. He wore the number 12 in honor of his debut album, 12 Play.
In 1998, Kelly released R., which was his fourth studio album and first double album. em>R. featured "I Believe I Can Fly" and included the hit "I'm Your Angel", which was a duet with Celine Dion. It also featured duets with Nas ("Money Makes the World Go Round"), "Spendin' Money" (produced by Sean "Puffy" Combs), a collaboration with Jay Z, Cam'ron, Noreaga ("We Ride"), a track with Foxy Brown ("Dollar Bill"), along with a few tracks with another one of his proteges, Sparkle.
While Kelly collaborated with a variety of producers and writers on R., for his next release, TP-2.com, Kelly took the reins again and went into the studio as a one man show, writing, arranging and producing the entire album by himself. The public and the critics loved it, sending the album straight up the Billboard charts to #1. The album's hits included "I Wish," "Feelin' On Yo Booty," and the remix to "Fiesta," the track he did with Jay-Z:
The one-off collaboration between the kings of R & B and hip hop lead to The Best of Both Worlds, a joint album with Jay-Z. The album debuted at number two, despite the fact that the album leaked. The music industry sprung another leak in May 2002, when what was supposed to be Kelly's sixth studio album, Loveland, also leaked. Not to be done be undone by a leak, Kelly re-recorded the entire album, changed the name and released Chocolate Factory in early 2003. The album became another mega-smash for the singer with singles "Ignition," "Snake" and go-to karaoke favorite "Step in the Name of Love" all hitting big.
Then in October 2004, Kelly and Jay-Z decided to do a follow-up to their Best of Both Worlds. As expected, their new album, Unfinished Business, hit number one on the Billboard chart. Unfortunately when two mega-stars are touring together, egos and tempers started to flare. R. Kelly left the tour after getting pepper-sprayed by someone in Jay Z's entourage and multimillion dollar lawsuits started flying. Amid all the legal drama, Kelly released his seventh album, TP.3 Reloaded, in 2005. That album gave the public their first peek at the wild and wonderful world of "Trapped in the Closet," which included the first five chapters of the hip hopera. Videos for chapters one to five were released in sequence in May and June of 2005. Following a preview at the 2005 MTV Video Music Awards, seven more chapters were released on DVD. Two years later, R. Kelly released ten more chapters of the increasingly complex story starring Rufus, Sylvester, Twan, Big Man, and Pimp Lucius and all 22 chapters were shown right here on IFC.
2007 brought Kelly's album Double Up, with the the singles "I'm a Flirt (Remix)", featuring T.I. and T-Pain and "Same Girl," which was a duet with Usher. While "I'm A Flirt (Remix)" hit number one, there's something about "Same Girl" that is irresistible:
Kelly released his first ever mixtape, The Demo Tape (Gangsta Grillz) in 2009, followed by the release of a full length album called Untitled, which featured the single "Number One" that ironically peaked at #8. That same year, Kellz teamed up with biographer David Ritz a to write his memoir, which he fittingly titled "Soula Coaster." Here's Gary Oldman reading some of Kelly's bio:
In 2010, Kelly announced that he was working on not one, but three new albums: Epic, a collection of his most "epic" ballads; Love Letter, which earned him yet another Grammy nod, and Zodiac, which was derailed by emergency throat surgery that waylaid the singer for awhile. While some critics were worried that Kelly wouldn't be able to recover his smooth croon. Instead he came back bigger and better with a single fittingly titled "Shut Up." As Spin magazine put it, "Kelly taking aim at the haters who said 'he's washed up, he's lost it.' He hasn't. Dude's voice is in prime smooth R&B form."
In June 2012, Kelly released his eleventh studio album, Write Me Back proving that he is both wildly prolific and incredibly talented. Of course Kelly knew that all along. He told Vibe back in 2004, "My talent has overwhelmed me — it automatically beats the pen and pad to the punch. Lyrics come just like that, out of nowhere. God blessed me with a talent I don't see anybody else with." It's hard to argue with that sentiment.
Want the latest news from IFC? Like us on Facebook and follow us on Twitter @ifctv.
Trapped in the Closet returns to IFC on Friday, November 23 at 9/8c.