Exclusive premiere: Frightened Rabbit "Here" – The Highlands Film"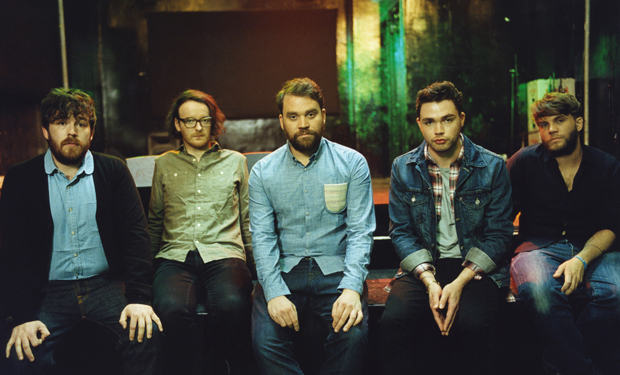 Posted by Brandon Kim on
Though Frightened Rabbit are a Scottish band, and proudly so, they had never gotten the chance to take their minstrelsy up into the Highlands until earlier this year. This was no jaunty weekend trip either, no they went on a deep tour of all the old Pictish outposts, premiering and practicing new songs from their upcoming, "Pedestrian Verse," to small rooms of eager, small town fans. Dunoon, Aviemore, Ullapool, the tremendously woolen, vowel-heavy names of places set in a stunning landscape of crisp water and rugged mountains where bands don't normally venture.
"It had been an ambition of mine since I started the band to take to Scotland's outposts to play shows," singer Scott Hutchison said. "The opportunity took its time to arise, so when it did, it felt silly not to document the whole thing in some way." It was a dead brilliant idea and a lovely side effect was the panoramic short, "Here," that they came away with.
"We all felt that the country itself should be the lead in this film, and Scotland did not disappoint," Hutchison recalled wistfully. Many of their northern kin, fans since the beginning, may have waited five years to see the band live, living so far away and isolated from tour destination cities like Glasgow, the band's home. "Wonderful people, breathtaking scenery and damn good shows. I feel lucky to have this film to remember it by." Haste ye back, Frightened Rabbit.
video player loading
.
.
.
Just a few weeks ago the band announced "Pedestrian Verse," tracks from which are already proving the album will not live up (or down, as it were) to that name in any literal sense. The songs glimpsed in "Here" are testament to that, especially Hutchison's solo performance of "State Hospital," which he gives mid way through this gorgeous film, with verse as powerful as the Highlands are in their vista, looming over the little Scottish town where he sang it.
The album will be out Feb. 5th on Canvasback Music/Atlantic Records.
You haven't wanted to visit the Highlands more since Christopher Lambert wore a kilt, right? Let us know in the comments below or on Twitter or Facebook!