"Oz the Great and Powerful" trailer: Which witch is which?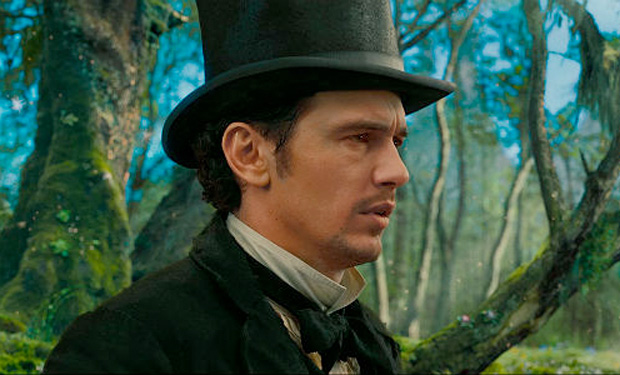 Posted by Terri Schwartz on
Dorothy once set off to find the Wonderful Wizard of Oz, but was he ever wonderful, or even a wizard? The new film, "Oz the Great and Powerful," seeks to tell the story of the man behind the curtain, and a new trailer for the film promises that there's plenty that we don't know about the world somewhere over the rainbow.
Though this trailer sets up the fact that James Franco's Oscar Riggs is mistaken as the "great man" who Oz has been waiting for when he lands there by way of hot air balloon. He is mistaken for the foretold Wonderful Wizard of Oz, and opts not to tell the Ozians that he is not quite a wizard. He is quickly caught up in a quest to find and defeat the Wicked Witch, but that raises a whole new crop of questions.
There are three witches introduced in this trailer: Theodora, Glinda and Evanora. While fans of "The Wizard of Oz" know that Glinda is the Good Witch of the North, does that automatically make Theodora and Evanora the Wicked Witches of the East and West? And which witch is which? Were they always evil, as Mila Kunis's Theodora introduces herself as a Good Witch? Who will end up being squashed under Dorothy's poorly placed house? The trailer seemingly intentionally begs us to ask these questions, if only so we get our butts to theaters to have them answered.
The film, directed by Sam Raimi (The "Spider-Man" trilogy), stars James Franco as Oscar Diggs — the man who eventually becomes the man behind the curtain: the Wizard of Oz. The cast also includes Mila Kunis, Rachel Weisz and Michelle Williams, who star as witches Oscar meets during his adventures in the Land of Oz. Though it's made many years later, it's easy to see the parallels Raimi is trying to draw both visually and story-wise between "The Wizard of Oz" and this film.
"Oz the Great and Powerful" is due in theaters on March 8, 2013.
What do you think of this new trailer? Tell us in the comments section below or on Facebook and Twitter.