Matthew Vaughn accidentally confirmed as "Star Wars: Episode VII" director?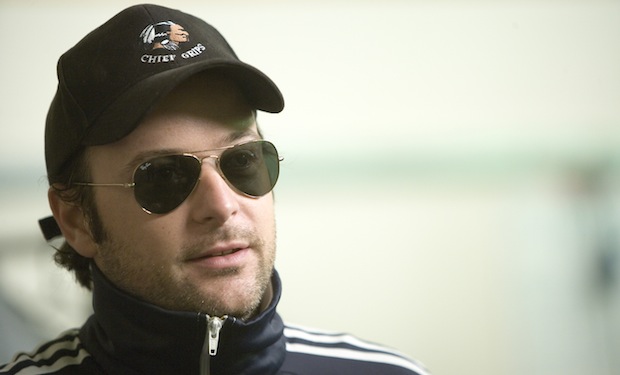 Posted by Terri Schwartz on
Actor Jason Flemyng might have accidentally let slip one of the biggest Hollywood secrets around. During a recent interview, which you can watch below, he seemingly revealed that Matthew Vaughn will be directing "Star Wars: Episode VII."
Flemyng was speaking with HeyUGuys when the outlet asked him if he thinks he'll get asked by Vaughn to star in the new "Star Wars" movie. Vaughn has only been rumored for the part, but Flemyng answered, "Me and Matt have done nine films together, so I'm sure I'll get the call for 'Star Wars.'"
It was only after he answered and the reporter asked a follow-up question about Vaughn's involvement that Flemyng seemed to realize his mistake. He stammered a response and seemed to shrug it off, but let's just say we won't be too surprised if Vaughn ends up being announced as director of this film.
Meanwhile, Mark Hamill has elaborated on his own involvement with the forthcoming movie. He's already said he's known for over a year that "Star Wars: Episode VII" was on its way, but it hasn't been announced (only rumored) that he'll reprise his role as Luke Skywalker.
"We have questions about it," Hamill told E! Online about the movie, speaking for both himself and Fisher. "And really, they're not even at the stage where they're able to answer those questions because, as far as I know, is there a story yet? I loved all those people, I really did. Until I know more about what they have in mind, I think it's better to let LucasFilm make the announcements."
Hamill was then asked what he'd think of another actor taking over the role of Luke Skywalker. Surprisingly enough, he didn't seem too put out by the idea.
"If they were going to do a story where Luke was too young or too old for me to play, they would get an age appropriate actor," Hamill said. "There's so many good people."
Would you like to see Vaughn direct "Star Wars: Episode VII"? Would you like to see Hamill be involved? Tell us in the comments section below or on Facebook and Twitter.