"Kick-Ass 2" cast speaks out after filming wraps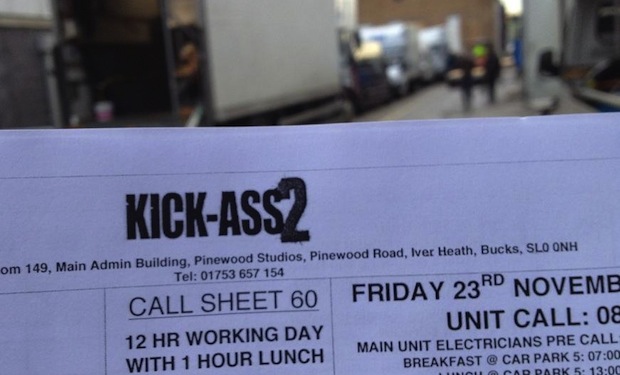 Posted by Terri Schwartz on
Congratulations are in order for the cast of "Kick-Ass 2." Filming officially wrapped on the forthcoming sequel over the weekend, and the people behind the movie seem pretty excited about it.
"That's a wrap — JUSTICE FOREVER!!!! #kickass2 @ChloeGMoretz @MintzPlasse @JimCarrey @donald_faison @ClaudiaLeeLive," the always-vocal-on-Twitter Jeff Wadlow tweeted on Friday. "@mrmarkmillar Just cracked your bottle — thank you, sir, for creating this world and letting me live in it for the last three months!"
For their part, the cast seemed equal parts excited and sad that their time on "Kick-Ass 2" is over. Chloe Moretz, Christopher Mintz-Plasse and Claudia Lee, all of whom have been regularly posting "Kick-Ass 2" updates throughout its production, took to the social media network to share some final thoughts on the film.
"Saw a 10 minute trailer of kickass 2 on set. Holy shit, it could be better than the first. I don't know, well see," Mintz-Plasse tweeted. "It's now that time that 4 months ago, I thought would never come. Day after day of consistent work on my tv show and kickass 2, and today it wraps. Kickass 2 cast and crew are such a solid group of fantastic people. A family, and we can't wait to show you this product."
Moretz said, "Had such an amazing last day on #KickAss2!! Thank you to everyone involved who made this such an amazing expierience #HitGirlIsBack!!!"
And finally, newcomer Lee tweeted, "Final day on #KickAss2 was amazing! I'm going to miss everyone.Thank you so much for such a memorable experience! @JeffWadlow @mrmarkmillar"
"Kick-Ass 2" stars Aaron Johnson, Mintz-Plasse and Moretz. It also introduces Donald Faison as Doctor Gravity, Robert Emms as Insect Man, Lindy Booth as Night-Bitch, Lee as Brooke, Carrey as The Colonel, John Leguizamo as Red Mist's bodyguard and Morris Chestnut as Hit-Girl's guardian. Directed by Wadlow, it's due in theaters on June 28, 2013.
What are you most looking forward to about "Kick-Ass 2"? Tell us in the comments section below or on Facebook and Twitter.