"Iron Man 3" official stills tease Iron Patriot and Rebecca Hall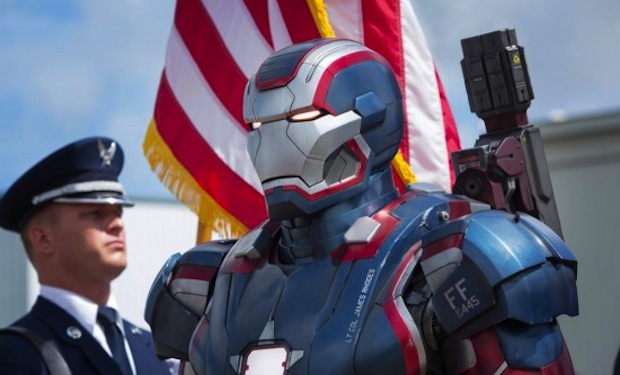 Posted by Terri Schwartz on
It's been more than a month since we saw the latest trailer for "Iron Man 3," which means we're ripe for more teases from the upcoming Marvel movie. Fortunately Marvel Studios has us covered.
Marvel.com has released four new official stills from the upcoming movie. Though there isn't that much here that we haven't seen before, the images do give us a new look at Iron Patriot as well as Rebecca Hall's character Maya Hansen.
Hansen doesn't look like she's in great shape here, but then again Iron Man doesn't either. Someone can be seen in one of the shots holding Iron Man's destroyed mask, which doesn't bode well for his character. Considering the fact that we see him get beaten pretty badly in the "Iron Man 3" trailer, our guess is things get better before they get worse for our favorite billionaire playboy philanthropist.
"Iron Man 3" is based on Warren Ellis's "Iron Man" comic book series "Extremis." Pearce's Aldrich Killian looks to be the movie's big bad as a co-creator of the Extremis serum, which creates a new breed of supersoldier. He and partner Maya Hansen, played by Hall, opt to place the serum in the hands of terrorists and set them up against Iron Man in order to prove the strength of Extremis. It was announced at San Diego Comic-Con that Kingsley will play The Mandarin. "Iron Man 3" will hit theaters on May 3, 2013.
Which of these new images is your favorite? Tell us in the comments section below or on Facebook and Twitter!