Introducing The Total Bearding Network, an animated Whisker Wars web series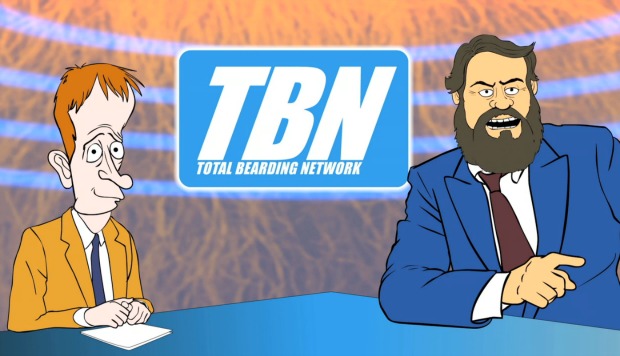 Posted by Melissa Locker on
As we get ready for the battle lines to be drawn in the second season of Whisker Wars, which premieres Friday, November 23rd at 10/9c, we are rolling out a brand new web series called, Total Bearding Network. TBN gives us an animated look at the fierce world of facial hair face-offs. The show delves deep into the world of the whiskered warriors with the inside scoop on all the competitors. It's like ESPN, but for beards.
The icing on the cake? Our very own adopted comic Chris Gethard is lending his voice to one of the characters. "I am very excited to see the debut of TBN," said IFC's Chris Gethard, host of The Chris Gethard Show and inventor of the Ritz Carlton dance craze. "When I was first asked to contribute my voice to a beard-based project, I was confused. I was unable to grow facial hair until roughly the age of nineteen, and only started shaving daily last year. I am 32 years old. However, when I read the script and realized I was being cast as a meek and hairless man, I realized these guys were going to nail it hard. TBN promises to bring you the finest in animated beard based content, and I can't wait to see where it goes." Neither can we.
Watch episode one of the Total Bearding Network, right here, right now, and then be sure to tune in to Whisker Wars on Friday, November 23rd at 10/9c.
video player loading
.
.
.
Want the latest news from Whisker Wars? Like them on Facebook and follow them on Twitter @whiskerwars and use the hashtag #whiskerwars.
Whisker Wars returns to IFC on Friday, November 23rd at 10/9c.