Five reboots that worked, in honor of "The Amazing Spider-Man" on Blu-ray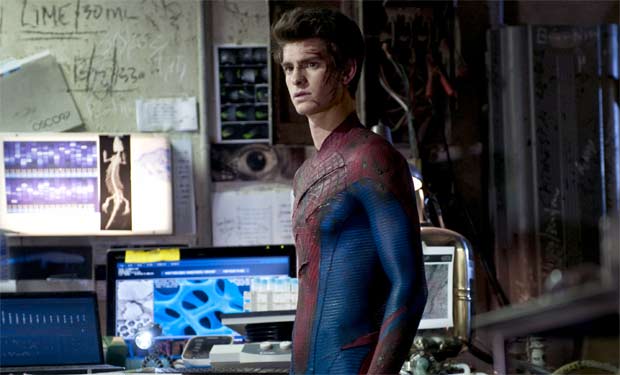 Posted by Scott Neumyer on
The "reboot" has become the new go-to term for Hollywood to use when they decide to remake a film that's either not really that old or they want audiences to believe they're taking a fresh take on the material. Sometimes it's true. Sometimes it's spin. Either way, movie fans have seen a whole slew of reboots in recent years as the number of wholly original films coming out of the dream factory gets smaller every year.
Perhaps this year's most high-profile reboot is Marc Webb's The Amazing Spider-Man, a "fresh take" on the character and the films Sam Raimi established as canon only a few years back. While it's certainly debatable that The Amazing Spider-Man actually "worked" as a reboot, it's undeniable that the film includes some stunning visuals, a fantastic bit of chemistry between leads Andrew Garfield and Emma Stone, and a bend on Spidey's origin that audiences hadn't seen before. It also boasts a pretty astonishing Blu-ray (in stores now) with an exhaustive documentary crafted by Charles de Lauzirika. It's a must-buy for any fan of the webslinger.
Feel free to argue yourself into oblivion about how well Webb's film actually holds up but, if anything, it gives us the chance to delve into five reboots that did work. It's like déjà vu all over again.
---
"Dawn of the Dead" (2004)
George A. Romero fans (myself included) are rabidly protective of the man's work, and for good reason: he's the Godfather of the modern zombie film. If it weren't for Romero's 1968 classic "Night of the Living Dead" you probably wouldn't be seeing the type of popularity that zombies are enjoying now. Things like "The Walking Dead" probably wouldn't even exist if it weren't for Romero's work.
So fans were skeptical at best when they heard that Zack Snyder was planning to remake one of the master's most loved films: "Dawn of the Dead." Not only that, but he planned to employ fast-moving zombies. What? Yes, that's right. Snyder's zombies are quick little buggers hell-bent on eating brains and tearing flesh. It was a major change that hardcore zombie fans had a very hard time coming to grips with. Yet, despite all the misgivings and nervous Romero 'shippers out there, Snyder's 2004 "Dawn of the Dead" actually works. It's certainly not the original, and it's a wholly new take on the film's zombies-in-a-mall concept where the social satire doesn't quite hit as strongly as Romero's take, but it's a hell of an entertaining film and still stands up as one of the best zombie flicks of the last decade. Packed with a quality cast, tightly directed, and jammed with plenty of winks to Romero's original, "Dawn of the Dead" is one reboot for which I'm happy to be a fan.
---
"21 Jump Street" (2012)
Nobody, and I mean nobody, except for the folks making 2012's "21 Jump Street" thought this reboot was going to work. And I don't blame them. The odds were certainly stacked against the film. The original TV series that it's based on really wasn't very good (aside from giving the world a glimpse into the mind of a very young Johnny Depp), the casting seemed off (who knew Channing Tatum could pull off comedy, right?), and concept itself seemed to be reaching. The final product, however, is completely badass and hilarious. Fans began to have hope when that first poster came out with the hilarious tagline (which I won't repeat here) and early trailers backed up their suspicions that "21 Jump Street" just might have a chance at working. And work it does. The team of Jonah Hill and Channing Tatum is way funnier than anyone expected, the fresh take on the concept is surprisingly adept, and the clever cameos and inside jokes turn "21 Jump Street" into one of the year's best comedies and one that I'll watch again on Blu-ray plenty of times. Who knew?
---
"The Fly" (1986)
When the master of flesh-based horror, David Cronenberg, decided to remake the 1958 Vincent Price-starring film of the same name he not only made the decision to reboot the original concept, but he actually took the film's basic premise of a scientist merging with a housefly and blew it up in only the way Cronenberg knows how. The results are not only better than the original film, but they're also astonishingly original, completely horrific, and totally Cronenberg. "The Fly" is often regarded as the director's best film, but even that might be selling it short. Jeff Goldblum and Geena Davis both deliver career-best performances, the effects are just as effective two decades after the film's release, and the subtext of "The Fly" holds up extremely well. If you're looking for the definition of a true "reboot" look no further than Cronenberg's film. Not only is it absolutely creeptastic, but it's also smart, well made, and wholly original. Oh, and it's also often pretty damn gross.
---
"Disturbia" (2007)
Now's the time when all the Shia LaBeouf haters will take out their pitchforks and come running after me. Go ahead, folks. Bring it because I still watch "Disturbia" to this day and I still get a hell of a kick out of it every time. Based on Alfred Hitchcock's classic film "Rear Window," D.J. Caruso's 2007 film might not be a true, full-on "reboot," but it definitely has enough elements of the original film to call it one. There's a guy (in this case LaBeouf) holed up inside his house and he can't stop staring out the window watching life happen outside. Then he sees what he believes to be a murder occurring. From there, "Disturbia" strays quite a bit from Hitchcock's film, but it's the same basic premise with similar results. The film is clearly no "Rear Window" but it is a damn fine film with some truly suspenseful moments and excellent performances from Shia LaBeouf and Sarah Roemer. "Disturbia" is one of those films that, if it pops up on TV, it's nearly impossible to turn it off. That alone, in my opinion, is enough to call it a reboot that works.
---
"The Thing" (1982)
John Carpenter's 1982 classic "The Thing" just might be the greatest reboot of all time. Based on the 1951 Howard Hawks-Christian Nyby film "The Thing from Another World" (and possibly more so John W. Campbell Jr.'s novella "Who Goes There?"), Carpenter's film is an ice-cold slice of paranoid perfection. Similar to what Cronenberg does with "The Fly," Carpenter takes the original premise and blows it up to create a wholly new film in the director's signature style. Starring Kurt Russell, Wilford Brimley, Keith David, Donald Moffat, and Charles Hallahan, "The Thing" is exactly what you'd expect it to be… until it isn't. It's a film that will have you questioning who you trust and why, who your friends and enemies really are, and just what might lurk under the surface of every conversation, action, and moment of solidarity. It's also, arguably, Carpenter's greatest film and that's saying a whole lot. If you've only seen the 2011 prequel version of "The Thing" get your butt over to Amazon now and pick up the excellent Blu-ray version of Carpenter's film. You won't regret it. Trust me.