IFC presents the 2012 Comedy Bang! Bang! Nativity Pageant on Dec. 4th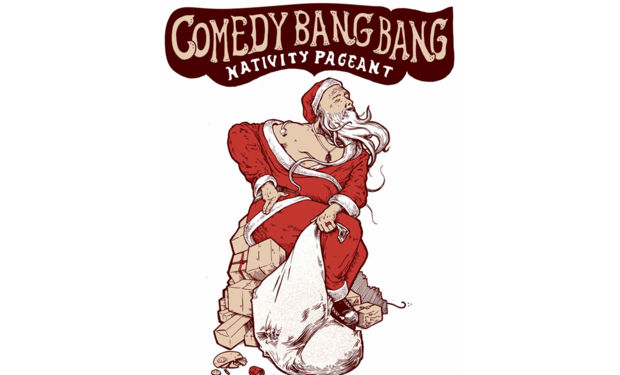 Posted by Melissa Locker on
Hear ye! Hear ye! Attention residents of the greater Los Angeles area! If you like to laugh and to give to good causes, please clear your calendar for December 4th when IFC presents the "2012 Comedy Bang! Bang! Nativity Pageant" benefitting the LA Regional Food Bank.
The World Dodgeball Society and aspecialthing records are teaming up to bring the comedy show of the year to Los Angeles, and make all the other cities feel slightly less cool. IFC's "2012 Comedy Bang! Bang! Nativity Pageant" is a holiday comedy show benefiting the LA Regional Food Bank and it is taking place on Tuesday, December 4th at The Ricardo Montalbán Theatre in Hollywood, CA. Yes, that's the theater named after Ricardo Montalbán a.k.a. KHAAAAAN. Isn't Hollywood cool?
The show features a roll call of who's hot in comedy right now. Stars like Zach Galifianakis, Aziz Ansari, Patton Oswalt, David Cross, Bob Odenkirk, Brian Posehn, Kristen Schaal, Chris Hardwick, Thomas Lennon, Nick Kroll, Paul Scheer, Tim Heidecker, Doug Benson, Paul F. Tompkins, Anthony Jeselnik, Chelsea Peretti, Neil Hamburger, Garfunkel & Oates, Matt Besser / Todd Glass, Jimmy Pardo, and, of course, Kurt Braunohler. Fittingly the show is hosted by Comedy Bang! Bang! host Scott Aukerman.
Tickets range from $45-$75 and all ticket sales go to charity. If that's not enough of a reason to buy, the cost of the tickets also include FREE cocktail reception from 6:30-8:00 with music by DJ Douggpound and beer and refreshments all night long and a heart that is not two sizes too small.
Tickets available now at http://www.ticketfly.com/event/185867 .
THE WORLD DODGEBALL SOCIETY is a friendly neighborhood adult co-ed community centered around, but not limited to the game of dodgeball. While dodgeball is their bread and butter (operating games and leagues internationally), they strive to be about more than just that. Gathering fun-loving folks from all walks of life and supporting and connecting the community is their goal. They pride themselves on being able to give back more than they take in the neighborhoods they play, whether it be through dodgeball events, volunteering, fundraising or activism.
ASPECIALTHING RECORDS is a Los Angeles-based independent comedy record label owned and operated by Matt Belknap and Ryan McManemin. Stemming from an online message board, aspecialthing records has taken a D.I.Y. approach to producing and distributing the finest stand-up comedy albums since 2006. Having already worked with such celebrated artists as Paul F. Tompkins, Doug Benson, Kyle Kinane, Greg Proops and Jen Kirkman, AST is looking forward to expanding their catalog while continuing their dedication to exceptional emerging and established comics.
Want the latest news from Comedy Bang! Bang!? Like them on Facebook and follow them on Twitter@comedybangbang and use the hashtag #cbbtv.