Harrison Ford "open" to a role in "Star Wars: Episode 7"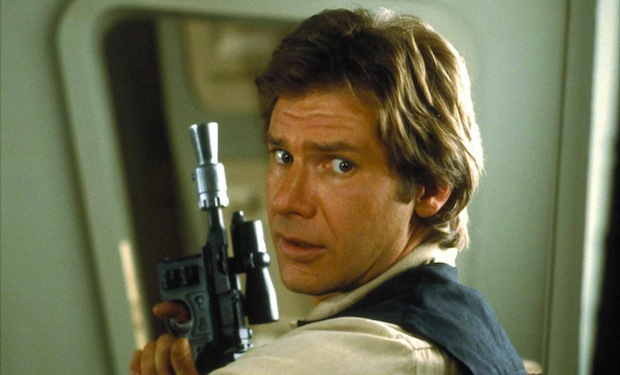 Posted by Terri Schwartz on
"Star Wars: Episode 7" is happening, and it could bring back some familiar faces. It's been an assumed fact that the new "Star Wars" film would take place after the events of "Return of the Jedi," which means it shouldn't come as much of a surprise that high ups are talking to the three stars of the original "Star Wars" trilogy to reprise their roles.
Apparently they're game for the roles. A new report from Entertainment Weekly's Geoff Boucher (formerly of Los Angeles Times Hero Complex fame) claims that Harrison Ford in particular is "open" to the idea of playing Han Solo again.
"Harrison is open to the idea of doing the movie and he's upbeat about it, all three of them are," a high-placed source reportedly said, referring to Ford, Carrie Fisher and Mark Hamill.
Ford reportedly won't sign any contracts "until there's a script and a director in place," and "either could be a deal breaker."
EW also has an update on the planned plot of the movie. The site writes that Disney "plans to circle back with a new trilogy that picks up the story decades later and presumably uses the original trio to hand off the franchise to a new generation." We already know that this will be based on an original story, not the previously hoped for "Thrawn" trilogy.
It's interesting that Ford would consider returning to the "Star Wars" franchise considering he's made no secret of his disinterest in the character of Han Solo in the past three decades. It could be that he's looking to bring Solo's story arc to a close after George Lucas opted not to kill him off in "Return of the Jedi."
Would you want to see the original three "Star Wars" stars have roles in "Episode 7"? Tell us in the comments section below or on Facebook and Twitter.