Guillermo del Toro working on an adaptation of "Justice League Dark"?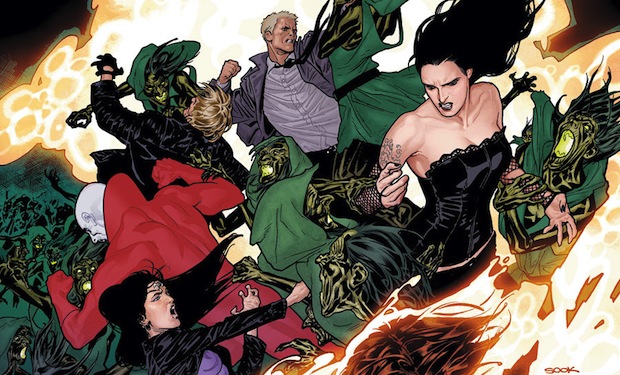 Posted by Terri Schwartz on
Guillermo del Toro might be the next director to venture into DC Comics territory.
Following a rumor released last week that claimed that del Toro might be working on "Heaven Sent," a movie based on "Justice League Dark" that would feature a darker array of DC characters than we're used to, the director has confirmed the news to MTV Geek. It's not a project that is very far along, but it is in fact being worked on.
"When somebody asked me about 'Justice League' … I'm not involved in 'Justice League.' I am discussing," del Toro said. "I've been discussing with the fans and I've been very, very open about how much 'Swamp Thing' was key when I was a kid. Comics in Mexico came on the first two days of the week. Around Tuesday and Wednesday I would go to the newsstand on my bicycle and I would get 'Swamp Thing' every time it was available and I loved Jack Kirby's 'Demon.' I love Constantine and all that. You know, I've been pursuing doing something with them for many, many years. Hopefully it'll come to pass. But we are still just discussing."
To be fair, del Toro has many projects kicking around that he's never actually gotten to (remember his planned "Haunted Mansion" and "At The Mountains of Madness" movies?), so this is no guarantee that "Heaven Sent" — or "Justice League Dark," as it could be called — is actually getting made. Still, it is interesting that del Toro is involved in the film. His next movie, "Pacific Rim," is coming out at Warner Bros., the same studio that is planning an "Avengers"-style "Justice League" movie.
It would make sense for WB to have del Toro make a "Justice League Dark" movie with characters they haven't already adapted recently to start off a new cinematic universe they can explore. But hey, we're just speculating. Both "Justice League" and this movie are at least several years away, so we'll have to wait until then to really get our hopes up.
Would you want to see del Toro direct a "Justice League Dark" movie? Tell us in the comments section below or on Facebook and Twitter.