Call-In Commentary: Watch the "Flight" trailer with screenwriter John Gatins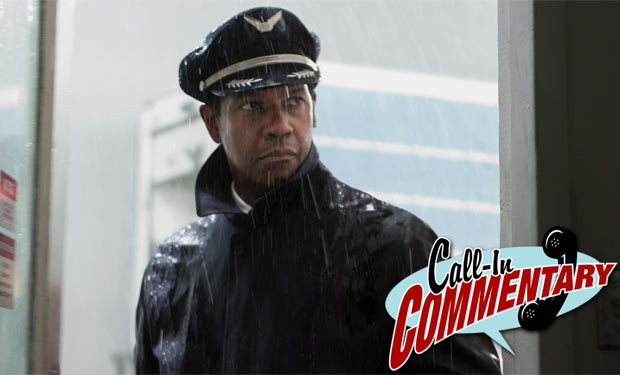 Posted by Brian Jacks on
"Flight" is more than just the much-heralded return of director Robert Zemeckis to live-action films, it's also a soaring drama with one of the most emotionally charged performances from Denzel Washington in years. The story follows a veteran airline pilot (Washington) who miraculously crash-lands a passenger jet, only it happens while he's high on cocaine and drunk, something the FAA tends to frown upon. Co-starring Don Cheadle as Washington's lawyer, Melissa Leo as a hard-charging government investigator and John Goodman as the easy-going drug supplier, "Flight" is a near-certain Oscar contender and an exhilarating theatrical experience.
"Flight" sprang from the mind of screenwriter John Gatins, who remained very much invested with the project during its filming. So it was a particular thrill to recruit him for our Call-In Commentary series, where directors, writers and actors record narration to their movie trailers. In the video below, Gatins touches on the filming, working with the cast and offers general insight into this fascinating project. "Flight" is currently in theaters.
video player loading
.
.
.
MORE CALL-IN COMMENTARIES:
– Watch the "Starlet" trailer with writer-director Sean Baker
– Watch the "Fat Kid Rules the World" trailer with director Matthew Lillard
– Watch the "House at the End of the Street" trailer with director Mark Tonderai
– Watch the "Looper" trailer with writer-director Rian Johnson
– Watch the "For a Good Time, Call…" trailer with writer-director Jamie Travis
– Watch the "Robot & Frank" trailer with director Jake Schreier
View more Call-In Commentaries…
Will you be checking out "Flight"? Let us know in the comments below, or on Facebook or Twitter.