Exclusive Premiere: Diamond Rugs Uncovered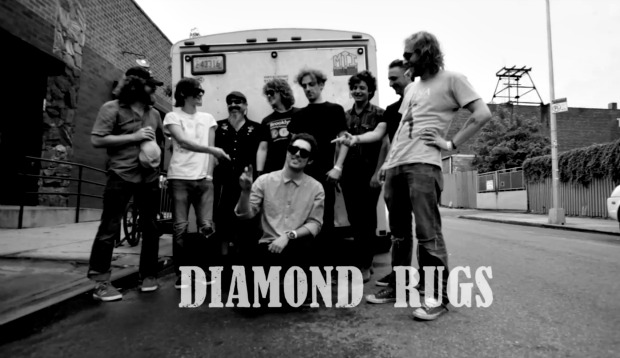 Posted by Melissa Locker on
In the music world, collaborations are a thing of beauty. From the dulcet countrified tones of the Traveling Wilburys (Tom Petty, Bob Dylan, Roy Orbison, George Harrison) to the heady and thumping "Watch the Throne" effort from hip hop titans Jay Z and Kanye West (as if you didn't know that) collaborations have the habit of making incredible music. Which is exactly what happened when John McCauley (Deer Tick), Robbie Crowell (Deer Tick), Ian Saint Pé (The Black Lips), Steve Berlin (Los Lobos), Hardy Morris (Dead Confederate) and Bryan Dufresne (Six Finger Satellite) got together. One thing is clear after watching the documentary: These guys know how to have a good time. And just one listen to their self/titled debut album shows that they also know how to make great music. You can buy it here.
In this short documentary we go behind the scenes with Diamond Rugs as they play songs and tour in support of their album. Here's what the director of the Diamond Rugs doc, Ryan Henriquez, has to say about the film, the band, and the project:
What distinguishes a "side project" from a new band? This short documentary explores the origins and chemistry behind the rock band Diamond Rugs, which started out as one and ended up as the other. Last Fall on little more than a whim, members of Deer Tick, Black Lips, Los Lobos, Dead Confederate, and Six Finger Satellite assembled in a recording studio in Nashville to drink some Buds, have some fun, and lay down some tracks, probably in that order. And then the unexpected. These searchers, kindred spirits all, immediately found themselves dialed-in and speaking a language unto themselves, as the music simply unspooled out onto analog tape til suddenly there was an album. Almost by accident and to everyone's surprise and elation, a new band called Diamond Rugs had formed. Have a look at what happens when it all just clicks.
Watch Diamond Rugs Uncovered:
video player loading
.
.
.
Want the latest news from IFC? Like us on Facebook and follow us on Twitter @ifctv.