"Evil Dead" photos open up the Book of the Dead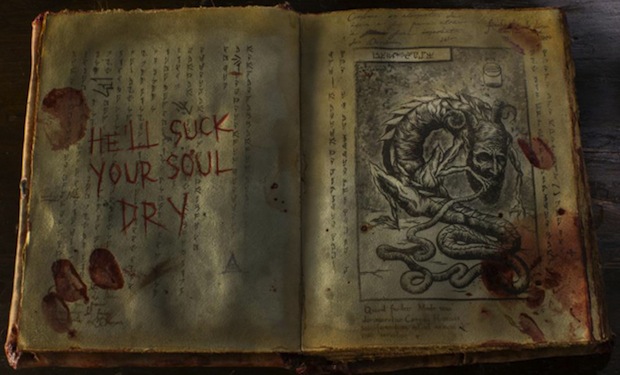 Posted by Terri Schwartz on
Lesson number one about "Evil Dead": Don't open the Book of the Dead.
But, as the movie's Facebook page shows us, the Necronomicon has already been opened. "Necronomicon Ex Mortis: Don't Say It. Don't Write It. Don't Hear It. Don't Share It," the account cautions, but it seems like it's already too late.
The Book of the Dead is at the center of the upcoming movie, just like it was in the original film. The official synopsis for "Evil Dead" reads, "In the much anticipated remake of the 1981 cult-hit horror film, five twenty-something friends become holed up in a remote cabin. When they discover a Book of the Dead, they unwittingly summon up dormant demons living in the nearby woods, which possess the youngsters in succession until only one is left intact to fight for survival."
We already saw much of the devastation the Necronomicon wreaks in the recently-released trailer for the film. It's clear that things get bad before they get good (if they get good at all) for main characters Jane Levy, Shiloh Fernandez and Elizabeth Blackmore.
"The movie's not funny. The movie is old-fashioned, retro horror. There's not a snappy line in the whole movie," Bruce Campbell recently said of "Evil Dead," which he is producing. "The first movie wasn't like that, and this is a remake of the first movie, so he's really just matching the tone of the first movie, which is not, 'Hardy har har.'"
"Evil Dead" hits theaters on April 12.
What do you think of the new Necronomicon in "Evil Dead"? Tell us in the comments section below or on Facebook and Twitter!