Exclusive Download: Peanut Butter Lovesicle "Complex"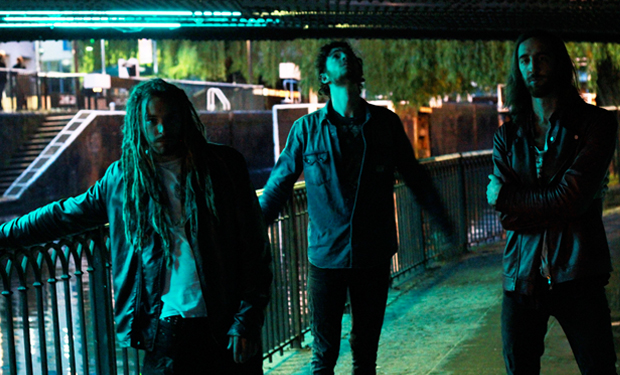 Posted by Brandon Kim on
Peanut Butter Lovesicle isn't the name you'd expect for a band out of Brooklyn these days, nor does their blues/psyche rock sound call to mind the moustachioed lofts of Bushwick or the gilded parlors of Williamsburg. You might think LA or Akron, Ohio. But everything I first assumed about this young dirty threesome turned out to be wrong.
PBL, as you may wish to refer to them, scored a spot on Gossip Girl for their single "Black Eyed Blues" which was then turned into a video with actor Ed Westwick (and model Julie Henderson). They recorded their new EP, "Dirty Pride," live in an old church up in the Hudson Valley with Lenny Kravitz/Mick Jagger go-to man, Henry Hirsch.
"Complex originally started as a piano part which is now the intro, it was slower and reminded me of a church melody," vocalist/drummer Timmy Miller, who penned the song said. "When played faster, with guitar and added parts, it came out like you hear it; a heavy downbeat groover…. it's a favorite of mine and I can visualize the scene of the lyric when I hear it."
DOWNLOAD: Peanut Butter Lovesicle "Complex"
The band kicks off a tour tonight, Nov 29th,  at Brooklyn's at Cameo gallery.
Full Tour dates:
Nov 29 – Cameo Gallery – Brooklyn, NY
Dec 01 – Yesterdays – Marmora, NJ
Dec 06 – Tammany Hall – New York, NY
Dec 08 – Grape Room – Philadelphia, PA
Dec 19 – Scully's – Columbus, OH
Dec 22 – Smiling Moose – Pittsburgh, PA
Dec 27 – Windber Hotel – Windber, PA
Dec 28 – Hurricane Relief – New Brunswick, NJ