Dane DeHaan on "Lawless," "Kill Your Darlings" and those "Spider-Man 2" Harry Osborn rumors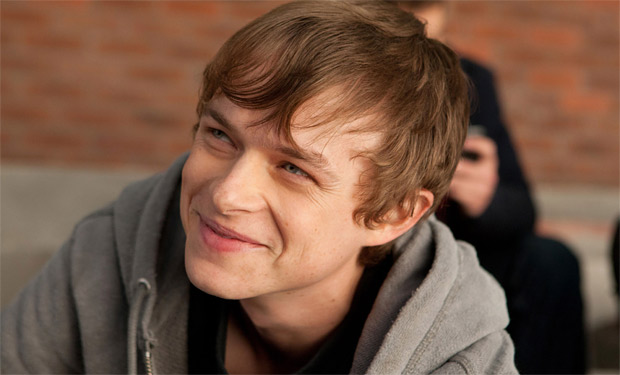 Posted by Jennifer Vineyard on
Dane DeHaan developed a taste for moonshine working on "Lawless" (out this week on DVD) — "straight, plum, strawberry, pineapple, blueberry, apple, and peach" were among the flavors he tried, all for work you understand! ("I would not have been doing a good job if I didn't sample the local product," he laughed when talking to IFC.) But that wasn't the only thing Dehaan acquired from the set of his first big film.
"I'm a firm believer that you can learn something from everybody, and there were eight of the heaviest hitters on that film, so I soaked it all up, from every single person," DeHaan said. "I look at people and I think, 'What does he or she do better than me? How do they do that? How can I adapt that?'"
Guy Pearce, for instance, taught DeHaan "the importance of not only internal life, but external life" by showing up on the set with shaved-off eyebrows and a shaved quarter-inch part in his hair. "I mean, he was the dude," DeHaan said. "He showed me how you can take the effort to form the person on the outside, which was a revelation to me, because I tended to work first on the internal, and the external would come later." (For his own role, DeHaan took this lesson to heart in developing special angled shoes and his walk, since his character Cricket had rickets.)
Shia LaBeouf, on the other hand, taught DeHaan the value of developing relationships off set, after the two of them took a four-day road trip together so they could play best friends. That lesson is one DeHaan has already applied to two of his subsequent films, "Kill Your Darlings" and "The Place Beyond the Pines."
In the Beat poets-murder story "Kill Your Darlings," DeHaan plays Lucien Carr, who helped introduce Jack Kerouac (played by "Boardwalk Empire"'s Jack Huston), Allen Ginsberg (played by Daniel Radcliffe), and William S. Burroughs (played by Ben Foster). And because he learned how valuable it was to have an off-set friendship to simulate an on-screen one, "I spent a lot of time with Dan," DeHaan said. However, he didn't spend quite as much time with co-star Michael C. Hall, who plays David Kammerer, a man Carr killed after spurning his romantic advances.
"Not only were Allen Ginsberg and Lucien Carr involved, but I think David Kammerer and Lucien Carr were also involved," DeHaan said. "So I have a responsibility to develop that relationship, at least internally, so my character can really fall in love with them."
Unlike the other main characters, DeHaan had less written material to study about Carr. "He tried really hard not to leave many accounts of himself out there," the actor said. "The first edition of 'Howl' was dedicated to Lucie Carr, and he had his named removed from subsequent editions." But DeHaan was able to find some handy material in "And The Hippos Were Boiled in Their Tanks," which is an account of the murder co-authored by Kerouac and Burroughs not published until after Carr's death. "Plus there are diaries and letters of Kerouac talking about Carr, Ginsberg talking about Carr, and you can get a sense of who he was," DeHaan said.
In the Ryan Gosling-Bradley Cooper crime drama "The Place Beyond the Pines," DeHaan decided his primary relationship he needed to develop was one with an inanimate object — his bike. "Shia taught me about the importance of creating relationships," DeHaan said, "but I knew after reading the script that the important thing in that movie for me would be the bike. The bike came up all the time. I think my character [Jason] is genetically predisposed to love bikes."
Taking a page from Cricket's mechanical abilities (he's a "genius" who is constantly rebuilding cars to make them go faster and outrun cops in "Lawless"), DeHaan decided his way in to Jason would be to build his character's BMX bike, "so it would look like part of me." This was not a hobby of his before this role, so he found some help at the L.A. bike shop Bicycle Kitchen. "They have a bunch of old beat up bikes, and it's essentially a volunteer community service," he said. "So I not only got to learn how to build a bike and take care of a bike, but I spent a lot of time around kids who are a lot like Jason, which was really informative for me."
Now that DeHaan has several big films under his belt since "Lawless" (including a star turn in "Chronicle" — which might garner a sequel yet — and a cameo in "Lincoln"), the 26-year-old actor is hoping for a shot at an even bigger one: "Spider-Man 2." He's up for the role of Peter Parker's best friend Harry Osborn, but he doesn't want to jinx it by talking about screen tests or auditions. "I love what Marc Webb did with the first one, with the emphasis of the human aspects of it without calling attention to it. And I think Andrew Garfield is an amazing person and a talented artist. So if that opportunity were to come along, and obviously it has not yet, I would love to be in that."