Christopher Eccleston revealed as Malekith the Accursed in "Thor: The Dark World" set photos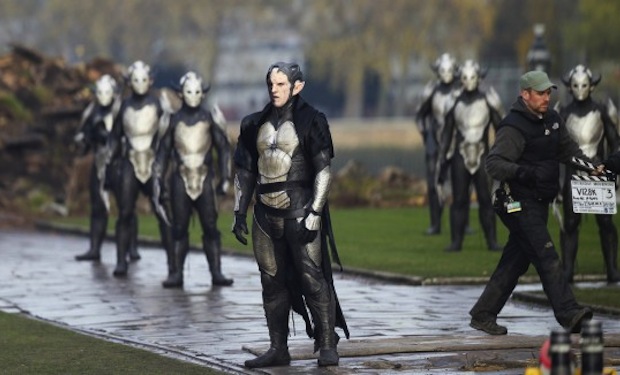 Posted by Terri Schwartz on
World, meet your Malekith the Accursed.
New set photos from the British shoot of "Thor: The Dark World" have made their way online and reveal how Christopher Eccleston looks as the movie's main villain, the Dark Elf leader Malekith. While he looks a bit different than he did in the "Thor" comic books, this Malekith definitely is an intimidating figure.
It will be interesting to see if there are any additional features or effects added in to spruce up Malekith's look later, but at least he has the same two-tone face from the comics. Meanwhile, his army of Dark Elves look battle-ready in the scene that they're filming, and their helmets that completely cover their faces don't reveal if they have any other similar features to their incarnations in the graphic novels. These images are more a tease than anything else for their final reveal, which hopefully will come once "Thor: The Dark World" unveils a trailer.
"Thor: The Dark World" is due in theaters on November 8, 2013. It stars Chris Hemsworth, Hiddleston, Christopher Eccleston, Kat Dennings, Natalie Portman, Anthony Hopkins, Zachary Levi, Alice Krige, Adewale Akinnuoye-Agbaje, Richard Brake, Clive Russell and Idris Elba. The film will follow the plot line of Thor's confrontation with Malekith the Accursed and the Dark Elves of Svartalfheim made popular by the comic books.
What do you think of your first look at Malekith the Accursed? Tell us in the comments section below or on Facebook and Twitter.