Carrie Fisher would return for "Star Wars: Episode 7"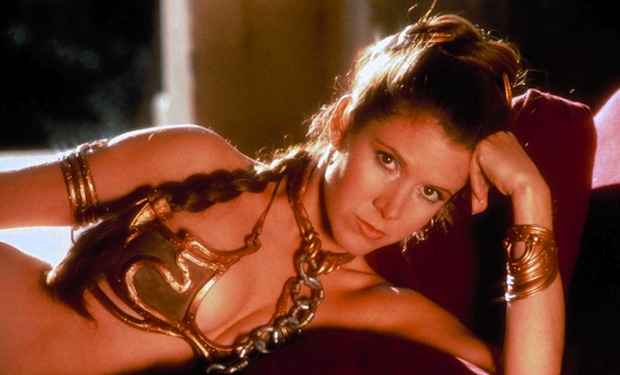 Posted by Terri Schwartz on
Harrison Ford is "open" to joining "Star Wars: Episode 7," and he's not the only one of the original cast members ready to hop on board. Carrie Fisher has now come out to say that she'd like to have a role in the upcoming "Star Wars" movie.
"Yes, sure. Wouldn't you?" she told TMZ when the gossip site cornered her about it.
Of course we would. If you watch the TMZ video, you'll see that Fisher seems like she is just giving the paparazzi the answers she thinks they want, but we also don't doubt that Fisher will be a part of the upcoming Disney "Star Wars" movie. Unlike Ford, Fisher has remained an active part in the "Star Wars" fan culture, even taking roles in projects related to the franchise like "Fanboys," "Family Guy Presents: It's A Trap" and "Robot Chicken: Star Wars Episode II." If the opportunity arose, we have no doubt that Fisher would again play Princess Leia.
In fact, the same report that said Ford is interested in returning for "Star Wars: Episode 7" also said that Fisher and Mark Hamill were game as well. The latter two have certainly had enough time to think about it, as Hamill revealed to Entertainment Weekly last week that George Lucas told them about the future "Star Wars" movie last year.
"Last August, he asked Carrie and I to have lunch with him and we did. I thought he was going to talk about either his retirement or the 'Star Wars' TV series that I've heard about — which I don't think we were going to be involved in anyway, because that takes place between the prequels and the ones we were in and, if Luke were in them, he'd be anywhere from a toddler to a teenager so they'd get an age-appropriate actor — or the 3-D releases," Hamill recalled. "So when he said, 'We decided we're going to do 'Episodes VII,' 'VIII,' and 'IX," I was just gobsmacked. 'What? Are you nuts?!' … It's one of those big decisions that at first seems unusual but then the more you look at it, the more it makes sense."
"Star Wars: Episode 7" is planned to come out in 2015 and will be an original story.
Would you want Fisher or any of the other original actors to rejoin "Star Wars" in "Episode 7"? Tell us in the comments section below or on Facebook and Twitter.