"Before Watchmen" will next tell the story of Dollar Bill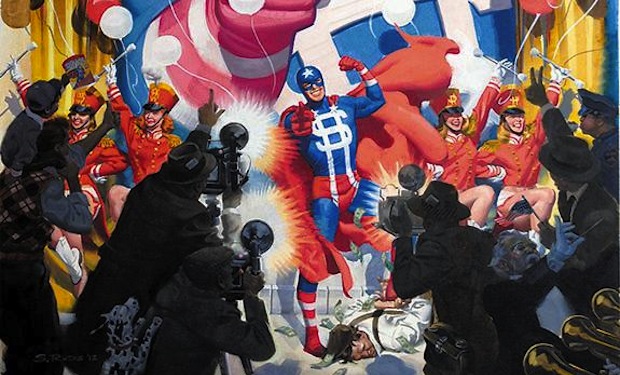 Posted by Terri Schwartz on
We'll soon be learning more about the superhero Dollar Bill.
Fans of Alan Moore's "Watchmen" will recognize the character, but we know little about him. That's why Dollar Bill will be the next caped crusader explored in the "Before Watchmen" comics.
"He's never been visited before. Of all the Watchmen, he's the one with the least information given about him over the course of the series," Len Wein said in a new interview with MTV Geek. "The difference between [Bill] and the rest of the characters is that he kind of accepts his lot in life, he just copes."
He continued, "He's one of those guys who just gets by, he does what he needs to do. Part of what makes him succeed initially, is that criminals aren't that brave to begin with. They've seen Dollar Bill in the movies kicking ass, and so for those first couple of minutes, they're frozen."
Wein will team up with Steve Rude for "Before Watchmen: Dollar Bill #1" and plans to explain why Dollar Bill ended up becoming a mascot for National Bank Co. It turns out that Dollar Bill never wanted to become a superhero, but rather planned to become a Hollywood actor.
"It's a tragedy," Wein said, "but some good came out of it."
"Before Watchmen: Dollar Bill #1" will hit store shelves on January 30.
Are you interested in learning more about the story of Dollar Bill? Tell us in the comments section below or on Facebook and Twitter.