Alia Shawkat on "Arrested Development" return: "It wouldn't happen without the fans"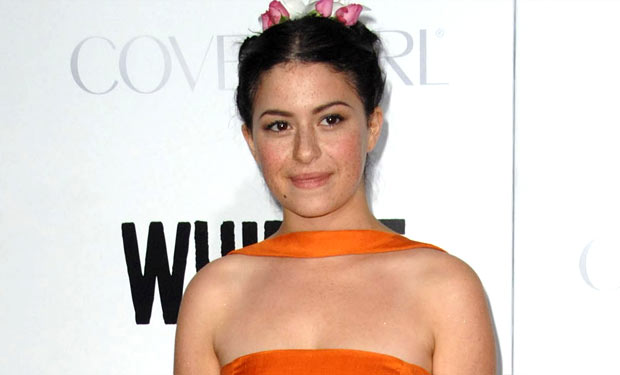 Posted by Jennifer Vineyard on
With "The Oranges" and "That's What She Said" recently in theaters, and "The To-Do List" due in February, Alia Shawkat is on a roll — and that's not even counting her return to the newly resurrected "Arrested Development," now shooting. She accredits most of her success to "Arrested," and by extension, the rabid fanbase that helped the show find a new life: "It wouldn't happen without the fans," she told IFC. "All the fan love, we wouldn't be back without that."
One of her favorite expressions of fan love was seeing an art exhibit with paintings inspired by the cast, drawn as Simpsons characters, or Tony Hale sitting on a weird seal. They were just so cool. I love seeing our characters just be caricatures anyway, and being one of those was super surreal. That was really special."
Shawkat told IFC "it's crazy" to be back on set, because "time has a weird way of getting back at you. It's hard to have a concept of time, sometimes, especially when you're working and you look exactly the same as you did then, and you're working with all the same actors. But it's great and everyone's excited to be back. Every day, we're like, 'This is crazy!'"
The "Arrested" team will continue to shoot through mid-November, but even with a couple weeks of the reunion under her belt, Shawkat said that being back on set reminds her of when she first shot the pilot. "I remember, when I got the cover sheet, it said, 'This show is a fly-by-the-seat-of-your-pants kind of show. You have to be on board for the style and moving quickly,' and I was like 14 at the time, so I was like, 'Yeah! Whatever!' I remember adjusting to that was very easy for me and Michael [Cera], and now, we're adjusting to it as adult actors. It's a process, for sure. But we're moving! We're getting a lot of stuff in, and it's a really high creative level that Mitch [Hurwitz] is at. He's a genius."
Shawkat's character in "The Oranges" bears a resemblance to her Maeby, but her Clementine in "That's What She Said" is less sure of herself — the only thing she knows is that she wants sex. "She's like, 'Here's my vagina! Let's have fun.'" And in "The To-Do List," she's relegated to a best friend role for Aubrey Plaza. But soon, in some of her upcoming projects that she's got in the works, Shawkat will get to demonstrate some of her many other talents, such as art.
"I've been pitching an animated show to different networks," she said. "It's similar to 'Daria' in tone, but it's a futuristic post-apocalyptic world, with a girl who's lost one arm kicking ass. She's trying to get revenge, so she's not just fucking around. But it's a comedy, too, and it has some of that Adult Swim grossness."
Shawkat is also still trying to get a show off the ground with her friend and "Whip It" co-star Ellen Page, called "Stitch 'N Bitch," which the two actresses would co-star and co-write. "We just got stoned one night and said, 'Let's write something making fun of ourselves as hipsters.'" They were looking at HBO, but now they're considering launching the show online.
And when she's not looking to become a showrunner in her own right (Hurwitz, look out!), Shawkat is in the early stages of studying how to play a dominatrix for a film called "The Books." Although she's already played a prostitute ("Cedar Rapids") and a nympho ("That's What She Said"), being a dom is very different, she cautioned: "She's a sex worker, but she's more of an actress. She's not just a sex kitten doing things — there have to be interesting reasons. What the client is getting off of is the psychological trip, and you have to be very strong. It's a mask she has to hide behind." Like any of her fun characters, she said, "it will surprise you. You'll go, 'Oh wow.'"