"Anchorman 2" to start filming in March, says Judd Apatow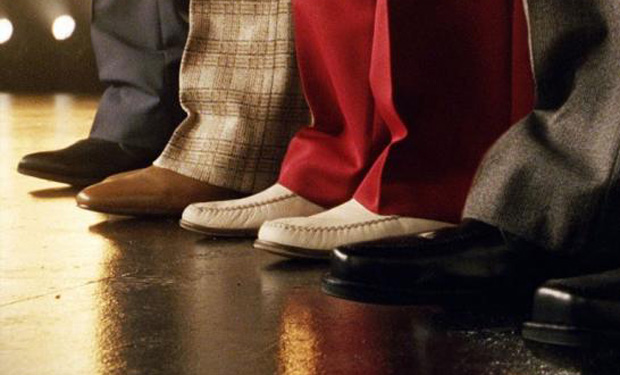 Posted by Terri Schwartz on
"Anchorman 2" is still coming, despite the fact we haven't heard anything about the movie since May. But silence isn't always a bad thing, as it seems Judd Apatow, Adam McKay and Will Ferrell have been hard at work bringing our favorite San Diego news team back theaters near us.
In an interview with The Playlist, Apatow revealed that "Anchorman 2" will likely go in front of the camera in March. He didn't say whether that would alter the flick's expected Christmas 2013 release date, though filming in March would require a pretty quick turnaround time.
McKay also opened up to The Playlist about his plan for the long-anticipated sequel and teased that there could be a bigger musical number this time around.
"Whole song sequences, absolutely. The music sequences we have done — we did 'Afternoon Delight' [in 'Anchorman'], Adam Scott and his family singing 'Sweet Child O' Mine' [in 'Step Brothers'], we did a whole song for 'Talladega Nights' that got cut out, a big, big musical number — we always do it live on the set," McKay said. "And my thing is, if the actors get freaked out, don't sweat it, we can always re-record it later. And every time we've done it, we end up using the live track from the recording. We'll probably do it the same way in this. This one might have a little more movement in it, and the only problem with that is the actors get winded."
He reconfirmed that "Anchorman 2" will be about Ron Burgundy's struggle to find his place in the ride of new media and the 24 hour news cycle, but stopped short of saying that he will have a "Mr. Smith Goes to Washington" moment.
"It's been discussed, there's a little wisp of [talk]. We'd never do it straight ahead, we gotta fuck with it in some way. Because Ron Burgundy isn't quite Jimmy Stewart in character, so if he does, he's not going to do it well," McKay said. "But there's a little bit of that going on. I mean what is this 24 hours news, and this wall of white noise information, has it really been good for our country? The great thing when you find a point of view like that is that it doesn't have to be preachy or didactic, it's also funny."
He continued, "It's just funny that Americans have to contend with 2000 channels, and 60 different specific news sources, and the confusion that it creates, and the junk that we get to see is hilarious. That's what we're always kinda looking for, what's the point of view that's got life to it and plays."
McKay also promised that "Anchorman 2" will feature top-tier cameos just like "Anchorman" did, dropping names like Ian Roberts, Rob Huebel and Paula Killen.
Are you looking forward to "Anchorman 2"? Tell us in the comments section below or on Facebook and Twitter.