Spotting Hitch: Where Can You Find Hitchcock's Famous Cameos in the New Blu-ray Box Set?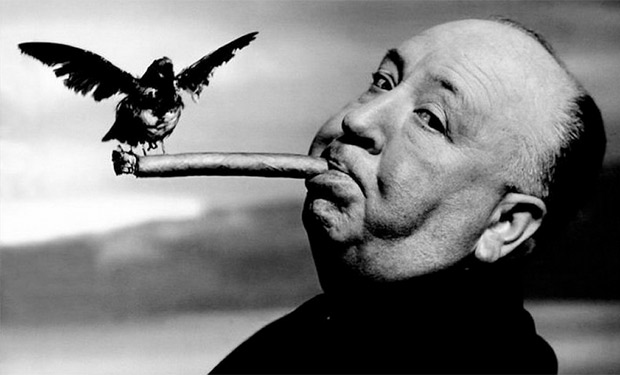 Posted by Scott Neumyer on
"North by Northwest" (1959) – 00:02:01
Hitchcock can be seen narrowly missing the bus right after his directorial credit exits the screen.
---
"Psycho" (1960) – 00:05:46
Hitchcock can be seen dressed as Mrs. Bates… No, no, that's just a little "Psycho" humor. Hitchcock can actually be seen sporting a cowboy hat and standing outside of Janet Leigh's window as she arrives at the office.
---
"The Birds" (1963) – 00:02:32
Hitchcock can be seen, right near the beginning of "The Birds," leaving Davidson's Pet Shop with two dogs on leashes as Tippi Hedren enters the shop.
---
"Marnie" (1964) – 00:04:57
Hitchcock can be seen entering the hotel hallway on the left just after Tippi Hedren and the bellhop pass by his door.
---
"Torn Curtain" (1966) – 00:08:30
Hitchcock can be seen sitting in the hotel lobby with a baby. The director switches the baby from his right knee to his left knee before brushing off his pants.
---
"Topaz" (1969) – 00:33:23
Hitchcock can be seen, with his back to camera, being pushed through the airport terminal in a wheelchair. When the wheelchair stops, Hitch gets up, shakes hands with a man in a suit, and walks off screen.
---
"Frenzy" (1972) – 00:03:28 & 00:04:18
Hitchcock can be seen, wearing a bowler hat, standing in the middle of an applauding crowd. Hitch is the one with the scowl on his face, clearly not applauding. He can also be seen nearly a minute later in a crowd, to the right of a woman in a green dress, right after the victim washes up on the shore.
---
"Family Plot" (1976) – 00:40:03
Hitchcock's trademark silhouette can be seen behind the door of the Registrar of Births & Deaths. The frosted glass gives this Hitch sighting an ominous feel.