Alexa Vega gets sexed up for new "Machete Kills" image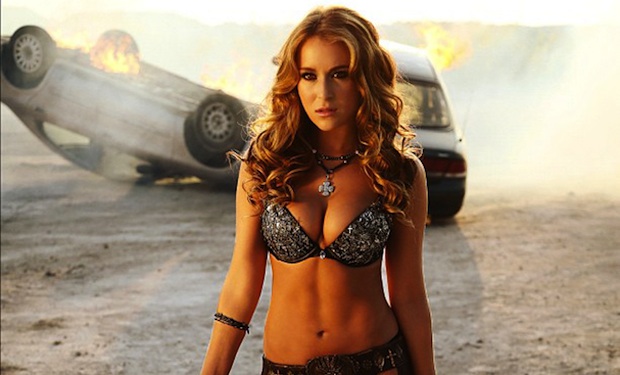 Posted by Terri Schwartz on
My, Alexa Vega, you look much sexier than we remember.
The 24-year-old actress got her big break thanks to Robert Rodriguez in the 2001 movie "Spy Kids." That's why it didn't come as much of a surprise that she would reteam with the director a decade later in his upcoming project "Machete Kills."
We should have realized that, in true Rodriguez form, reteaming now that she's an adult meant that Rodriguez would play up the sex appeal angle. Vega plays the character Killjoy in the new movie, but we don't know what joy she's killing.
The above image comes courtesy of Rolling Stone and shows Vega holding a gun, clad in nothing but a bikini and chaps. And you thought Jessica Alba looked good in "Sin City"? Maybe Rodriguez just as a thing for this look.
"Machete Kills" wrapped filming at the end of July, but hasn't found a home until now. The movie stars Danny Trejo, Michelle Rodriguez, Jessica Alba, Lady Gaga, Vanessa Hudgens, Charlie Sheen, Mel Gibson, Sofia Vergara, Alexa Vega, Cuba Gooding Jr., Edward James Olmos, William Sadler, Heard, Zoe Saldana and Demian Bechir.
In "Machete Kills," the U.S. President (Sheen) recruits Machete (Trejo) to stop an arms dealer (Gibson) from launching a deadly weapon that will spread war and anarchy throughout the world. No word yet on a specific release date, but we're just happy we get to see this movie next year.
Are you surprised by a new sexed-up Vega? Let us know in the comments section below or on Facebook and Twitter.