Watch "Dark Floors," the most expensive Finnish movie starring a heavy metal band ever made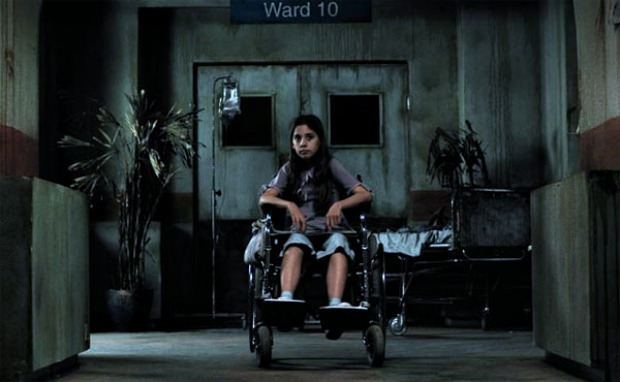 Posted by Melissa Locker on
Are you a fan of Lordi? That's a silly question. Of course you're a fan of Finland's answer to Gwar. Who wouldn't like a band that dresses up in rubber monster costumes and churns out hits like "Would You Love a Monsterman?" You're not alone in your love of Lordi, after all the band rose to the heavy metal heights of success when they became the first Finnish performers to ever win the Eurovision Song Contest back in 2006 with a then record 292 points. If you have some how missed the word of the Lordi, fear not, you'll be praising the Lordi after you watch "Dark Floors" today at 12:15 p.m. ET.
Not content to ride the wave of monster metal fame and fortune in the music biz, Lordi aimed their game at the silver screen. The result off that mission was "Dark Floors" a dark horror film with enough frights to keep you on the edge of your seat. The film stars Skye Bennett as Sarah an autistic girl who is unfortunate enough to be residing at St. Mary's Hospital. Her father, Ben (Noah Huntley), rightly concerned about the state of the hospital, finally decides to take his daughter home after an unfortunate MRI fire. They board an elevator with a group of strangers, including a businessman, Jonathan or "Jon" (William Hope), a nurse named Emily (Dominique McElligott), a seemingly homeless guy named Tobias (Ronald Pickup), and security guard Rick (Leon Herbert), but when the elevator reaches the next floor down, the hospital is abandoned. That's right, it's a haunted hospital horror movie and Sarah is the only way out. Rumor has it that "Dark Floors" was the most expensive Finnish movie ever made and you can tell in the slick production and magnificent monsters.
Tune in for terror today at 12:15 p.m. ET:
Want the latest news from IFC? Like us on Facebook and follow us on Twitter @ifctv.
"Dark Floors" airs on IFC today at 12:15 p.m. ET