Welcome to The Automat: The Kids in the Hall "Death Comes to Town"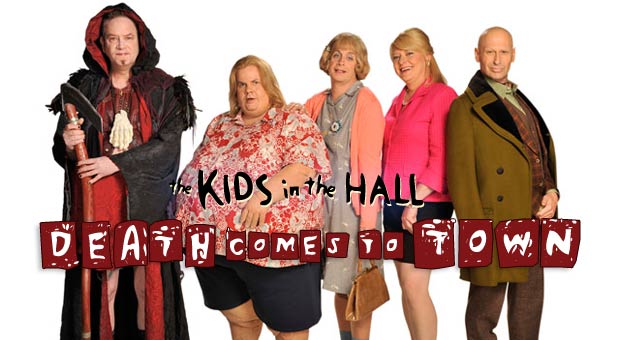 Posted by Melissa Locker on
Death arrived by the Greyhound bus in the small town of Shuckton, Ontario and soon everyone in the small town is implicated when one of its most distinguished citizens is found murdered in "Death Comes to Town" the blockbuster mini-series from Kids in the Hall. The series marked the revered and wacky comedy troupe's triumphant return to U.S. television for the first time since their cult series ended in the mid-1990s. Famous for their distinctive and surreal sketch comedy, all five original members of The Kids in the Hall — Dave Foley, Bruce McCulloch, Kevin McDonald, Mark McKinney, and Scott Thompson — star in the darkly comedic series and play almost all of the characters in their trademark gender-bending style. Co-written by all five Kids, the story of Death Comes to Town unfolds in a serialized format, different from their previous work on television. Now it's airing on The Automat, our early morning time slot filled with DVR-worthy shows. Check the schedule to see what's playing and when "Death Comes to Town" is on.
In the series, as the Grim Reaper pays a visit, the townsfolk and their Mayor are waiting for news on their bid for the next Olympics. The residents of the town of Shuckton include Crim, the Purell-sniffing town ne'er-do-well; Doc Porterhouse, the friendly town abortionist; Marnie, the loveable pizza delivery lady with Alzheimer's; Mayor Larry Bowman and his wife Marilyn, a "secret drinker"; Shuckton's Action News team; and Ricky, a 600-pound ex-hockey star. Mayor Bowman has an ominous visit from his past. They're all wacky and they're all suspects in the hilariously wacky series from the Kids in the Hall.
Watch a clip and be sure to tune in:
Want the latest news from IFC? Like us on Facebook and follow us on Twitter @ifctv.