Watch the Kids in the Hall's Death Comes To Town this Sunday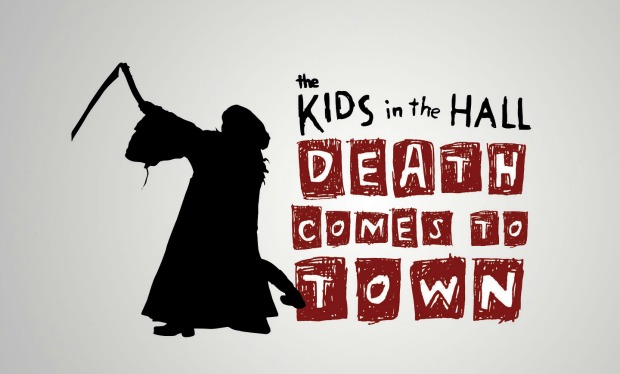 Posted by Melissa Locker on
Good news, fellow comedy nerds: We're showing all eight episodes of Death Comes to Town, the "gothic comic murder mystery" the Kids in the Hall this Sunday starting at 12/11c.
The Kids — Mark McKinney, Bruce McCulloch, Kevin McDonald, Dave Foley and Scott Thompson — play nearly all of the 20 characters in the series about Death stepping off a Greyhound bus in Shuckton, Canada to wreak havoc on the small town, and especially their mayor.
The show marked the Canadian goofballs' first full project together since 1996′s Brain Candy, and while they had a bunch of smaller projects and fun sketches, Death Comes to Town was the Kids' doing what they do best: dressing up in crazy costumes and making people laugh. The show features the Kids' playing a handful of very funny characters, most notably Mark McKinney as a paunchy, codpieced, bicycle-riding Grim Reaper, Bruce McCulloch as Shuckton's ridiculously deluded mayor, McKinney and Scott Thompson as local news rivals, and Kevin McDonald as a loopy pizza delivery employee. Plus, we get Dave Foley as the hard-drinking wife of the mayor. What's not to love? Nothing! So tune in Sunday at 12/11c:
Want the latest news from IFC? Like us on Facebook and follow us on Twitter @ifctv.
The Kids in the Hall mini-series Death Comes to Town starts Sunday at 12/11c